Herbal Tea That Help to Treat Damaged Glomerular Membranes
2015-03-10 08:15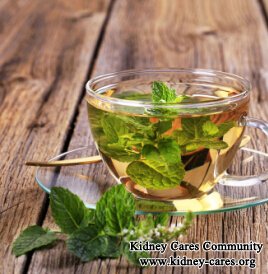 Every kidney is consisted of thousands of nephrons. And every nephron includes three parts, namely glomerulus, renal capsule and renal tubule. When blood flows through kidneys, waste products in blood can be filtered by filtration membranes, while protein is retained in blood. When glomerular membranes is impaired, protein leaks out, leading to proteinuria. Current treatment for proteinuria is to use steroids and immunosuppressants to inhibit kidney inflammation and decrease the permeability of capillaries. Though they can help you quickly control proteinuria, they have many side effects if used for a long time. That is why many patients want to find some herbal tea that help to treat damaged glomerular membranes.
Herbal tea is a part of Traditional Chinese Medicine (TCM). It is the extraction of the water-soluble substances of a medicinal plants by boiling. In TCM, there are thousands of herbs that can be used to treat kidney disease. What you can use depends on your medical condition. Improper herbal tea use may cause renal toxicity so as to speed up kidney failure. Here is just a brief introduction to several of them, such as:
-Dan Shen (Salvia)
-Lei Gong Teng (Tripterygium)
-Danqi Tablets
-Edelweiss (Laotou grass)
-Isaria cicadae Miq (Jinchanhua)
-Huang qi (astragalus)
Besides herbal tea, you can use some external therapies, such as Micro-Chinese Medicine Osmotherapy, Medicated Bath, Circle Therapy, Enema Therapy, Acupuncture and Moxibustion, etc. They can help herbal tea to be used to the most. They can dilate blood vessels and speed up blood circulation to remove stasis so as to increase blood flow into the kidneys. They can also cleanse waste products, lower blood pressure, reduce cholesterol level and regulate blood sugar level to set up a good blood environment for self-healing. After a period of treatment, inflammation in glomerular membranes gradually disappear and then you can regain your kidney function.
If you are interested in our treatment, please feel free to contact online doctor or leave a message below.