Is It Safe To Take Water Pills With Chronic Kidney Disease
2015-02-09 06:52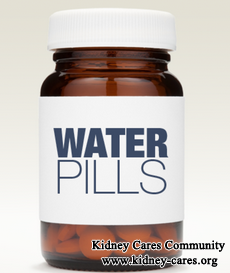 Is it safe to take water pills with chronic kidney disease (CKD)? We have not started dialysis yet but retaining a lot of fluid. If not. What else can help?
Once your kidney disorder has been identified, your doctor can order the treatment most appropriate for you. If fluid retention (swelling) is a problem, you may be given water pills, also called diuretics to get rid of excess fluids in your body.

Water pills used in the treatment of CKD has the following functions:
1. increase salt elimination by the kidneys
2. decrease leg swelling and lung congestion that result from salt and water being kept in the body due to CKD and/or congestive heart failure
3. increase the activity of other blood pressure lowering medications
4. lower high blood pressure
However, long term use of water pills also causes the following harmful effects:
1. dehydration that may decrease kidney function
2. low blood sodium concentration
3. high blood potassium concentration
4. high blood calcium concentration
5. dehydration that may cause lightheadedness when standing
6. erectile dysfunction
Water pills are not safe when you have kidney disease without consulting your doctor. You can try some natural remedies.
1. follow a low salt diet
limit salt in food
avoid salt added at meals
avoid sea salt
avoid salt with cooking
2. Chinese herbs
Dandelion
Dandelion is considered as an effective diuretic and may be helpful in removing excess fluids that form in the ankles and feet because of edema that develops during kidney disease.
Burdock root
Burdock root is also useful to help remove swelling from edematous tissues in the legs and feet.
Cranberries
Cranberry juice is also helpful in reducing edema in the feet and ankles because it can stimulate increased urination and flushing of the kidneys.
If you have any doubt or question, please feel free to consult our online doctor or leave a message to kidneycares@hotmail.com. We are always here ready to help you.