How To Safely Cleanse Your Kidneys
2015-02-07 02:59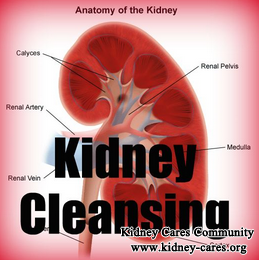 Healthy kidneys help filter waste from the blood, while when kidneys are damaged, they can not perform this function well. In this condition, excess wastes will accumulate in blood, causing many serious conditions like digestive problems, nervous problems and gastrointestinal problems. Therefore, it is very important to cleanse your kidneys to alleviate illness conditions. Well, how to cleanse your kidneys safely?
1. drink plenty of water
In order to keep the kidneys working well, it is important to drink plenty of water and to eat plenty of fruits, green vegetables and other foods that contain water. The wastes of the body can be eliminated regularly, and the kidneys can do their work better if plenty of water passes through, along with the waste products. If a person has severe edema, water intake should be controlled so as to avoid worsening the conditions.
2. avoid alcohol
Alcoholic drinks exert a very harmful effect upon the kidneys, often bring on the serious trouble called Bright's disease, so kidney disease patients had better not drink alcohol.
3. herbs for a kidney cleanse
diuretic herbs increase the rate of urination which helps to flush the kidneys. These herbs are not only diuretics but also contain phytonutrients that help strengthen and clean the kidneys. The herbs for a kidney cleanse include Blackberry, burdock root, dandelion, gravel root, marsh mallow, nettle, parsley and Uva Ursi.
4. eat more garlic
Garlic may stimulate urine production and may aid in flushing out toxins from the kidneys. You can eat raw garlic, or you could add garlic to your food. You can also take garlic supplements.
5. enema therapy
Enema therapy is a characteristic therapy in our hospital, which is based on traditional Chinese medicine. Due to its remarkable effect in kidney disease, it is loved by more and more people. Enema therapy can drain toxins with rectal administration, smoothing fu-qi and descending turbid qi, and restore the function of spleen and stomach to elevate the lucid.
The above are all natural remedies for kidney cleanse. The radical remedy for cleansing toxins in the kidneys should repair damaged kidneys and improve renal function. When kidney function is improved, kidneys can perform the function to discharge toxins and wastes from the blood fundamentally.
Our Treatment Effect
High creatinine level is dangerous to a kidney patient
Move the mouse to enlarge the picture
If you also want to reduce your high creatinine level, please look at this patient's report. When he was just hospitalized in our hospital on Dec 11, 2018,
His creatinine:1028umol/L,
urea: 39.7mmol/L
UA : 513umol/L
After a period of our treatment,
his creatinine:331umol/L, urea:16.1mmol/L
UA :325umol/L on Jan 5, 2019.
His condition was getting better and better. You can also get better.
For a CKD patient, you can choose Chinese medicine treatments to control your condition. your creatinine level can be reduced radically, symptoms can be alleviated and more importantly, your renal function will be improved. In this way, you can stay away from end stage kidney disease and avoid dialysis.