What Is The Treatment For Uric Acid Nephropathy
2015-01-12 03:03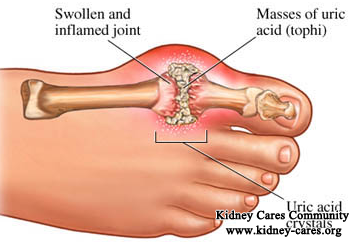 Uric acid nephropathy is a kind of kidney damage which is caused by hyperuricemia. This is generally called gouty nephropathy. Patients with uric acid nephropathy will experience urate crystals, micromolecule proteinuria, swelling, frequent urination at night, high blood pressure, high uric acid and damaged renal tubular. With proper treatment, kidney lesion can be alleviated or stopped, otherwise it can develop to end stage renal disease (ESRD). Well, what is the treatment for uric acid nephropathy?
Treatment for uric acid nephropathy
If you happen to be a person with uric acid nephropathy, you should take a systematic treatment which involves various aspects such as medications, diet and proper exercise, etc.
1. diet management
Uric acid nephropathy patients should follow a low purine diet. They should eat less or avoid eating animal organs like heart, liver and kidneys, etc. Patients had better quit alcohol. They should choose low-fat or fat free dairy products and avoid sweetened with high-fructose foods. Limit or avoid foods sweetened with high fructose corn syrup.
2. medications
Avoid diuretic medications that inhibit the secretion of uric acid. On the contrary, they can use medications to inhibit the formation of uric acid and increase the secretion of uric acid.
3. dialysis
Patients with acute kidney failure and ESRD should accept dialysis treatment to discharge some wastes and toxins from the body.
4. traditional Chinese medicine
Traditional Chinese Medicine (TCM) has over 3000 years of history in China. It includes many therapies like acupuncture, cupping, foot bath therapy, medicated bath therapy, enema therapy, etc. Besides, on the basis of TCM, our hospital creates some new Chinese medicine therapies like Mai Kang Mixture, Micro-Chinese Medicine Osmotherapy, and Immunotherapy. With Chinese medicine treatment, it helps relieve symptoms, complications and repair injured kidney damage. More importantly, renal function can be improved gradually.
Several treatments are provided for you and you should choose proper therapy according to your own medical conditions. You should remember to treat your uric acid nephropathy fundamentally.
Our Treatment Effect
High creatinine level is dangerous to a kidney patient
Move the mouse to enlarge the picture
If you also want to reduce your high creatinine level, please look at this patient's report. When he was just hospitalized in our hospital on Dec 11, 2018,
His creatinine:1028umol/L,
urea: 39.7mmol/L
UA : 513umol/L
After a period of our treatment,
his creatinine:331umol/L, urea:16.1mmol/L
UA :325umol/L on Jan 5, 2019.
His condition was getting better and better. You can also get better.
For a CKD patient, you can choose Chinese medicine treatments to control your condition. your creatinine level can be reduced radically, symptoms can be alleviated and more importantly, your renal function will be improved. In this way, you can stay away from end stage kidney disease and avoid dialysis.