What Drugs Can Not Be Stopped Suddenly for Kidney Patients
2015-01-07 11:38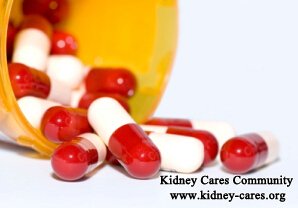 For Chronic Kidney Disease (CKD) patients, they are often required to take various medicines to control their symptoms. When you feel well or symptoms are eliminated, some medicine can be stopped, while some medicine can not be stopped suddenly without the instruction of doctor in case of relapse. Therefore, what drugs can not be stopped suddenly for kidney patients?
Steroids
Steroids such as prednisone are the most common used drugs for kidney patients to suppress kidney inflammation and reduce protein leakage. If you stop this medicine suddenly, your body can not secrete enough steroid to make up it. In such case, your kidney disease worsens so as to cause relapse. Besides, you may have vomit, nausea, poor appetite, even coma. Generally speaking, steroids should be reduced gradually when your symptoms are under control.
Antihypertensive drugs
High blood pressure is the leading cause of kidney disease. And kidney disease can also raise your blood pressure further. In order to normalize blood pressure, patients should take antihypertensive drugs, such as ACEI and ARBs. If you stop those medications suddenly, blood pressure will increase in short time so as to cause cerebral hemorrhage easily.
Digitalis
Heart failure is a common complication of kidney disease. If you have heart failure, digitalis can help the weak heart work normally. But this kind of medicine should also be used for long-term. Stop it suddenly, leading to heart failure easily.
There are also many other medicine to treat kidney disease and they should not be stopped suddenly as well. But as we all know, chronic kidney disease can not be cured. It indicates that you have to live with it for long term. In the long run, you had better choose some natural remedies for your disease so as to reduce their side effects. For more information, please contact online doctor.