What Is The Home Treatment For Protein In Urine
2015-01-05 03:08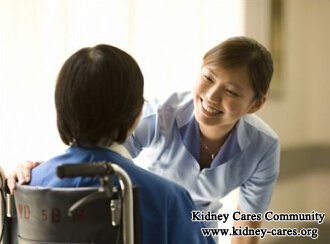 What is protein in urine? Protein in urine is leakage of protein from the blood into the urine. Protein is an important part of plasma of the blood, and the body does not want to lose protein. Therefore, when the body eliminates waste through the kidneys, protein should be kept in the blood stream. In term of protein in urine, it usually indicates kidney problem. Well, what is the home remedy for proteinuria?
Kidney disease and protein loss
One of kidney functions is to make urine by filtering the blood. Normally no protein passes into the urine when the blood is filtered because protein in the blood is too large to pass through the tiny holes in the kidney filters. However, the filter can be damaged in kidney disease, as a result, protein can pass into the urine. The filter in the kidney is called a glomerulus.
Treatment for protein in urine
As protein loss is due to damaged glomerulus. Therefore, repairing filtration membrane to recover its filtering function is very necessary.
Proteinuria can be treatable by drugs. However, many drugs cannot repair damaged filtration membrane, so protein loss continues to occur. Under this condition, patients can limit protein intake to reduce in urine. The less protein the patients consume, the less protein leak. However, protein is an important substance of our body and we cannot live normally without it. Therefore, we need to regulate protein intake under the instruction of doctor or dietitian.
In addition, patients with protein in urine can have a try of Chinese medicines. The active ingredients in Chinese medicines can repair injured glomerular filtration membrane. In this way, less protein will leak into urine.
If you want to learn more home remedy for kidney disease, you can leave us a message to kidneycares@hotmail.com or consult our online doctor directly.