How To Raise GFR Levels Naturally
2014-12-12 03:17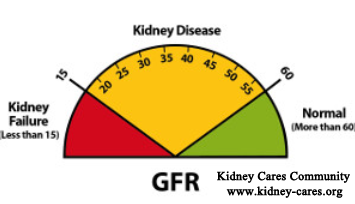 How to raise glomerular filtration rate (GFR) naturally? GFR is a test used to check how well the kidneys are working. If the levels is below 60 mL/min/1.73 m2 for 3 or more months are a sign of chronic kidney disease. GFR result lower than 15 mL/min/1.73 m2 is a sign of kidney failure and requires immediate medical attention. Therefore, people with low GFR level are eager to know how to improve it.
1. One natural way for GFR is dietary changes.
limit sodium intake
salt restriction in your diet to promote kidney function, your current GFR and a healthy blood pressure. How much sodium you can take will depend on your GFR lab value. Eat fresh instead of processed foods to limit sodium intake. Besides, avoid salt substitutes, which have potassium chloride in place of sodium chloride if you have been told to limit dietary potassium.
manage blood sugars
GFR is also recommended for people who may get kidney disease due to diabetes. Thus, managing blood sugar level can help you maintain a stable GFR level. Blood sugars can be managed by controlling portions of carbohydrates like milk, starches, fruits, nonstarchy vegetables, and eating them at consistent meal and snack times.
limit protein intake
protein intake restriction may help you to have a stable GFR. Your stage of kidney disease will determine the appropriate amount of protein in your diet. Restricting your protein intake to 0.75gram per kilogram of body weight may slow GFR decline. Too much protein intake will result in an accumulation of waste products that unhealthy kidneys cannot filter from the body. This will overwork kidneys and cause further kidney damage. Foods high in protein include meat, poultry, eggs, dairy and soy product.
potassium and phosphorus intake
as your GFR worsens, you may be advised to monitor the amount of potassium and phosphorus in your diet. additionally, improve your GFR with a healthy weight and regular physical activity.
2. The other way to improve GFR is Chinese herbs.
As GFR is an indication of how much damage has been done to the kidneys, repairing damaged kidney function is the only effective way to improve GFR value. Thus, the best method is to repair the damaged kidney functioning cells alive again. Some herbs have a function in increasing self-curative ability and repairing damaged tissues. In our hospital, we have Micro-Chinese Medicine Osmotherapy which can dilate blood vessels and improve blood circulation, so enough blood and oxygen will come to the damaged but not necrotic kidney cells. After a period of treatment, the GFR will be improved naturally along with the recovery of kidney function.