Why People Are Given Calcium Channel Blockers With Acute Kidney Injury
2014-12-08 02:07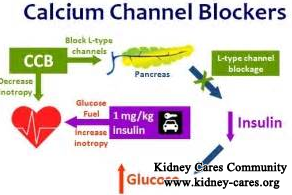 Why people are given calcium channel blockers (CCB) with acute kidney injury? CCBs have been widely used in clinical practice because of their antihypertensive capacity. Prevention of renal damage is a very important aim of antihypertensive therapy. About the detailed information, please read on the following content.
Calcium Channel Blockers and renal protection in high blood pressure patients
We know high blood pressure is a leading cause of kidney injury. Thus, the capacity of a CCB to prevent the kidney in high blood pressure patients seems to depend mainly on the capacity of these drugs to lower BP. The maintenance of a strict BP control represents the most relevant means to maintain a preserved renal function in hypertensive patients. Actually, a recent publication indicated that a very strict BP control had a similar degree of renal protection in patients with type 2 diabetes.
Calcium channel blockers, blood pressure control, kidney protect in patients with CKD
The two main strategies to prevent progression of renal damage and to reduce the risk of cardiovascular disease in hypertensive patients with chronic kidney disease (CKD) are a strict BP control and the inhibition of the renin-angiotensin system. Besides, a strict BP control can be accompanied by alleviating proteinuria. CCB have been shown to lead to a reduction in albuminuria or proteinuria.
In summary, in hypertensive patients with or without CKD, CCB are excellent antihypertensive drugs. CCB helps lower high blood pressure and also slow down the progression of kidney disease. If you have any question, please feel free to consult our online doctor or leave us a message to kidneycares@hotmail.com . We will reply you as soon as possible.