Can Kidney Repair Itself When Creatinine Level Is Slightly High
2014-10-21 01:30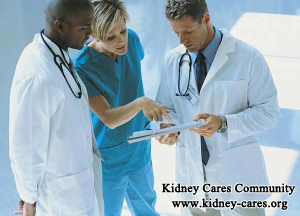 Can kidney repair itself when creatinine level is slightly high? Creatinine level in blood is an indicator that reflects kidney function. High creatinine level in blood means kidneys can not excrete excess creatinine out of the body successfully, which signifies kidney function has been severely impaired. In general, the higher the serum creatinine level, the poorer the kidney condition. Well, is it possible for kidneys repair itself when creatinine level in blood is slightly higher than normal range?
Creatinine is a substance that can pass through kidney freely, so it is used as an indicator of kidney function. Each kidney is composed of one million nephrone. When only a small part of nephrone is damaged, the residual kidney function is still able to help us maintain a normal life. Therefore, in early stage of Chronic Kidney Disease, patients experience no discomforts and at that time, serum creatinine is still in normal range. According to clinical studies, serum creatinine level begins to increase when about a half of kidney function is impaired.
For kidney disease patients whose creatinine level is slightly higher than normal range, at least a half of kidney tissues have been damaged. Under such a condition, the residual kidney tissues bear heavy burden. It is ok for kidney tissue to have high workload in short term, but if this condition lasts for a very long time, these healthy kidney tissues will be damaged. Kidney has a certain self-curative ability, but when a bout of a half of kidney function is impaired, it can not repair itself at all. Therefore, for kidney disease patients with slightly high creatinine level in blood, they need to take medical treatment to repair kidney damages, otherwise, their kidney function will keep declining.
In our hospital, chronic kidney disease is treated by a herbal treatment named Micro-Chinese Medicine Osmotherapy. In this treatment, all the herbs are used externally on kidney location and owing to this special usage, no side effects are caused during the whole process. Besides, this herbal treatment is used in our hospital not only because it is harmless, also because it can repair kidney damages and improve kidney function. For Chronic Kidney Disease patients, slightly high serum creatinine level keeps increasing in blood if kidney function can not be improved, so by improving kidney condition with Micro-Chinese Medicine Osmotherapy, their high creatinine level can be lowered down to the normal range timely.