Natural Ways to Help Your Kidneys When GFR Is Low
2014-10-16 03:50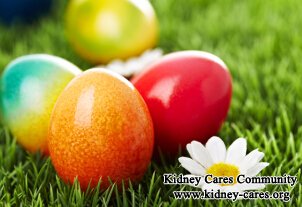 GFR (Glomerular Filtration Rate) is often used to measure how well the kidneys are working. When GFR is low, it indicates there is something wrong with kidneys and you may have a lot of symptoms associated with kidney disease, such as edema, foamy urine, blood urine, etc. Are there any natural ways to help your kidneys when GFR is low?
Keep a balanced diet
When GFR is low, the kidneys can not filter waste from the blood timely and then the waste builds up. In order to reduce the production of waste and the workload of kidneys, we should pay attention to the diet. For kidney patients, they should limit protein intake, manage blood sugars, restrict sodium intake, etc. They should also monitor the amount of potassium and phosphorus in the diet.
Do exercise regularly
Though kidney disease sometimes makes you feel very tired, you should not stay in bed all the time. Doing some gentle exercise is OK for kidney patients, for example, walking, jogging, yoga, tai chi, etc. Exercise can boost your energy, lower cholesterol level, reduce blood pressure, improve appetite, etc.
Natural therapies for kidney disease
The above ways are helpful for you to prevent further kidney damage. But if you want to improve GFR, you should repair the damaged kidneys. The conventional treatment for kidney disease is to control symptoms, but it can not improve kidney function and it has many side effects if used for long term, while TCM is almost derived from animal and vegetable sources, it seldom has side effects.
When treating kidney disease, TCM therapies such as Micro-Chinese Medicine Osmotherapy, Medicated Foot Bath, Mai Kang and decoction are often used. According to your medical condition, the medicine in them changes. They can expand blood vessels to increase blood flow into the kidneys, which can improve ischemia and anoxia in the kidneys. They can also eliminate immune complexes from the blood to reduce kidney inflammation. Moreover, they can degrade extracellular matrix to stop kidney fibrosis and supply the kidneys essential nutrients to help their recover. After a period of treatment, there is improvement in your kidney function.
There are also other natural ways to help your kidneys when GFR is low. If you are interested in them, please contact us. We are glad to help you out.