How to Lower Creatinine Level for CKD Patients
2014-08-20 07:22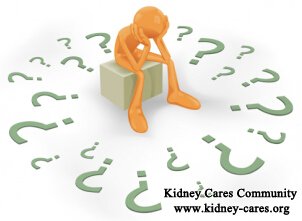 As the disease processes, the kidneys will gradually lose their ability to remove the waste and excess fluid from the blood. As a result, creatinine, a kind of waste product of protein, retains in the body when the kidney function declines to less than 50 %. How to lower creatinine level for CKD patients?
To reduce the production of creatinine
There are two sources of creatinine production. One is the protein you consume, such as meat. And the other is muscle contraction. Therefore, you had better decrease the intake of protein and the amount of protein intake depends on your kidney function. You should also increase the intake of carbohydrates such as cereal to provide calory for your body so as to reduce the metabolism of protein. Besides, you should decline physical activity, especially strenuous exercises. But doing some gentle exercise such as walking and jogging is good for health.
To increase the output of creatinine
-Creatinine is passed out of body with urine. If you can increase urine output, more creatinine can be taken away. Herbal tea, such as dandelion tea and nettle leaf tea is diuretic, so it helps lower creatinine level to certain extent.
-If your creatinine level is very high, dialysis can filter the creatinine from the blood.
-To improve kidney function also lowers creatinine level, but you should receive comprehensive treatment. There are therapies, such as medicated bath, foot bath, circle therapy and enema therapy to draw out toxins from the blood and improve blood circulation. There are also other therapies, such as Immunotherapy and Micro-Chinese Medicine Osmotherapy to help repair the damaged kidneys. They can strengthen your immunity to fight against kidney disease. They can also stop kidney fibrosis as well as provide essential nutrients for kidney self-healing. According to your medical condition, our doctors can help you make a personalized treatment plan.
Increased creatinine level may indicate severe kidney damage, so importance should be attached. If desired, please contact us.