Chinese Medicine for Purifying Blood
2014-08-13 09:03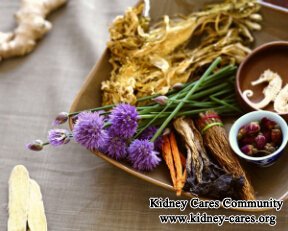 Kidney performs the function of flushing out toxins and removing fluid. When there is something wrong with the kidneys, toxins and fluid build up in the blood. In western medicine, there are many ways to purify blood, such as dialysis, plasma exchange and immune absorption, while in Chinese medicine, there are also therapies for purifying blood, but you may not have a clear mind about them. Only when you combine western medicine and Chinese medicine can you achieve a satisfying therapeutic effect.
Why should we purify the blood when kidney fails to work?
When kidney goes wrong, waste accumulates in the blood. And the accumulated waste can cause further damage to the kidneys. With the declined kidney function, more and more waste builds up. This is a vicious circle. To treat kidney disease, you should start from purifying the blood.
Chinese medicine for purifying blood.
Relatively speaking, Chinese medicine is a kind of conservative treatment. You do not have to drain the blood out of your body.
-Medicated Bath. Skin is the largest organ to expel the toxins. When your body immerses into the medicated soup, the active ingredients of Chinese herbs can go into the body through skin pores. And the waste can also come out of body.
-Foot Bath. There are many acupoints on feet. By immersing your feet into the medicated soup, toxins can easily be discharged through your feet.
-Circle Therapy. This therapy is to draw circles on certain acupoints with Chinese herbs and then toxins can be expelled.
-Enema Therapy. This therapy is to make use of intestinal tract to remove toxins.
-Micro-Chinese Medicine Osmotherapy. It is to penetrate the shattered Chinese medicine into the damaged kidneys by osmosis devices. The active ingredients can dilate blood vessels and block blood clotting to improve blood circulation. They can also eliminate immune complexes and inflammatory factors from the blood.
The above is external therapies. They are often used with oral Chinese medicine, such as Mai Kang, Maren capsule, etc.
A good blood environment is good for kidney recovery. When your kidney function improves, you can live a normal life.