Medicated Bath: One Effective Therapy For Chronic Kidney Disease
2014-08-11 06:40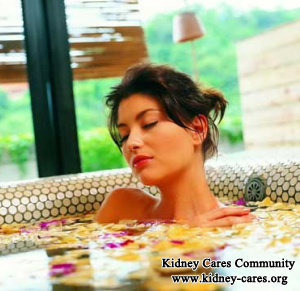 Medicated bath is a traditional external treatment of Chinese medicine. Its effect is similar to internal treatment by adding some decoction of Chinese materia medica into warm water for bath. Medicated bath is simple, cheap, no pain and it is relatively safe and reliable. Toxic side effects can be avoided. Medicated bath in our specialized kidney disease hospital can be applied in the following diseases:
1. Nephritis edema
2. Chronic kidney failure (azotemia)
3. Itchy skin and chronic skin problem
4. Joint and muscle pain
5. Diabetic peripheral neuropathy
6. Relieve fatigue and improve sleep quality
7. Reduce fat and body weight
The most concerned question is what function and therapeutic effects does medicated bath have for chronic kidney disease. In the following we will introduce them to you:
What therapeutic effects does medicated bath have?
1. Promote blood circulation to remove meridian obstruction
2. Sweating exorcism to promote the expel of metabolic wastes
3. Hold healthy atmosphere, improve immunity and eliminate tiredness
4. Calm the nerves and improve your sleep quality
As we mentioned above, medicated bath is simple and relatively safe as well as avoids side effects. However, it does not mean all CKD patients are suitable for medicated bath. Medicated bath also has some taboos.
People with the following conditions can not take medicated bath.
1. High blood pressure
2. People with fever and sweat
3. Open wounds on skin
4. People with severe heart disease
5. People are allergic to medicated bath
Medicated bath is only one of our Chinese medicine treatment. Apart from medicated bath, we also have Micro-Chinese Medicine Osmotherapy, Feet Bath, Acupuncture, Circle Therapy, Enema Therapy and so on. According to your medical condition, we will choose proper therapy for you and maybe several therapies will be combined together to treat your CKD.