What Should I Do to Delay Progression of Kidney Damage
2014-08-05 08:02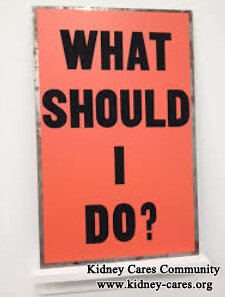 Kidney disease can not be cured, but we can slow down its progression to kidney failure with appropriate treatment. What should you do to delay progression of kidney damage? The following information may help you find the answer.
You should follow a renal-friendly diet.
Renal-friendly diet can give the damaged kidneys nutrients so as to help them repair themselves. It can also help control symptoms. For example, low protein diet can help lower blood urea level and creatinine level. Low salt diet can help reduce blood pressure. Low fat diet can help control cholesterol level. And fresh vegetables and fruits can provides vitamins which can boost immune system so as to help you fight against disease.
You should follow a healthy lifestyle.
Besides diet, you should do some exercise regularly. Exercise can help you boost immune system as well. It can also strengthen your muscles, improve appetite and sleeping quality, etc. Smoking and drinking alcohol should also be avoided as well, because they can speed up the progression. Moreover, you should pay attention to your emotion. Positive emotion can help you live longer.
You should seek treatment aggressively.
Kidney disease can be brought under control with appropriate treatment. Because treating kidney disease is a long process, if you do not want to suffer from these side effects of medications, natural remedies are preferred. In kidney hospital China, we treat kidney disease by Traditional Chinese Medicine. There are oral Chinese herbs and external therapies. They can cooperate with each other from inner to exterior to achieve the goal of repairing the damaged kidneys. Some of them can improve blood circulation by dilating blood vessels and blocking blood clotting. Some of them can inhibit kidney inflammation by eliminating immune complexes and inflammatory from the kidneys. Some can degrade extracellular matrix to stop kidney fibrosis. What is more, some of them can draw out toxins from blood to provide a clean blood environment for kidney self-healing.
If you can do the above things, the damaged kidneys can gradually restore their function and you can live a normal life.