Herbs to Reduce Protein in Urine in CKD
2014-07-12 07:48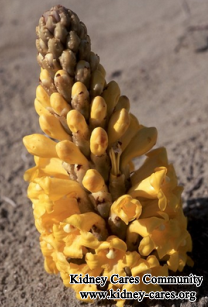 What are the herbs to reduce protein in urine caused by CKD? CKD is the abbreviation of Chronic Kidney Disease which is marked by progressive loss of kidney function. Kidney is in charge of filtering blood and during this process, proteins are kept in the blood and wastes are excreted out of the body. However, in CKD, kidneys can not function well, which leads to protein leakage. Under such a condition, if patients have test, test result will show protein in urine. Some steroids like prednisone show obvious and quick effects in stopping protein leakage, but long-term usage of them will cause many side effects. Therefore, some patients begin to pine their hope on herbs and hope to find a natural way to solve this problem. Well, what are the herbs that can help to produce protein in urine caused by CKD?
Appearance of protein in urine is due to impairment of kidney function, so only when kidney function is improved, can proteinuria be alleviated or removed fundamentally. In medicine, some herbs have been tested and they show benefits for CKD patients to reduce protein in urine. Here we will give an introduction about one of the herb and also a herb-based on treatment.
Cistanche: Cistanche is introduced for CKD patients not because it can improve kidney function, but because it can reduce the the burden of the kidney tissues. Kidney is a bean-shaped organ with various kidney intrinsic cells. When some of the kidney cells are damaged and become disabled, the residual kidney cells have to work hardly, which may cause further deterioration of CKD. Cistanche tones up the tissue and muscle that support the kidney so as to alleviate complication such as incontinence and other muscular complications-even preventing the need for bladder sling surgery. In this way, burden of residual kidney tissues can be reduced, which may reduce the amount of damage and protein excretion.
Micro-Chinese Medicine Osmotherapy: Micro-Chinese Medicine Osmotherapy is a herb-based on treatment. In this treatment, herbs which have been proven to be good for kidney are used together and externally. With the cooperation of effective ingredients in the herbs, some injured kidney intrinsic cells can be repaired well. Kidney works through a group of kidney intrinsic cells, so when some of the injured kidney cells are repaired, kidney function gets improved as well. As a consequence, proteinuria caused by CKD is alleviated naturally.
Lastly, protein in urine is clinically called proteinuria and it is just one of the clinical manifestation of CKD. Therefore, if we want to successfully reduce protein in urine, we need to begin with improving kidney function.