Can We Bring Back Kidney Function to 100% for Kidney Patients
2014-07-10 08:16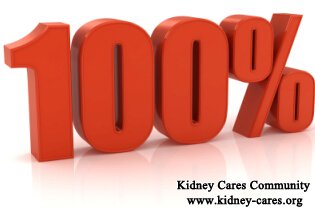 When you are diagnosed with kidney disease, your kidney function will gradually decline if you can not protect your kidneys well. Can we bring back kidney function to 100 % for kidney patients? I think many patients are anxious to know the answer to this question.
Kidneys are made up of millions of nephrons. And nephrons are the basic unit of kidney function. Whether our kidney function be brought back to 100 %, it depends on the condition of nephrons. If your nephrons are in a state of inflammation, it is possible for them to recover with treatment. But if your nephrons are necrotic, no treatment can bring them back to life. Therefore, it is possible for patients with early stage kidney patients to bring back kidney function to 100% and for patients with late kidney disease, we can only bring back kidney function to certain extent by repairing the injured nephrons.
How to improve kidney function for kidney patients?
To improve kidney function, we should repair the damaged kidneys. But the conventional treatment for kidney patients is just to control symptoms.
Because when kidneys fail to work, waste builds up in the blood. If you can not recover the blood system, these waste will further damage your kidneys. Therapies such as Medicated Bath and Circle Therapy can help draw out toxins from the body. They can also regulate the qi flowing in the channels and remove blood stasis. Besides, therapy like Micro-Chinese Medicine Osmotherapy can eliminate inflammatory factors from the blood so as to inhibit kidney inflammation. It can also improve ischemia and anoxia in the kidneys and stop kidney fibrosis. And then the injured nephrons gradually regain their ability under a clean and healthy blood environment.
The earlier you receive treatment, the more kidney function you can restore. Do not take measures until all the nephrons are dead.