Can Juniper Berry Restore Kidney Function
2014-06-12 06:42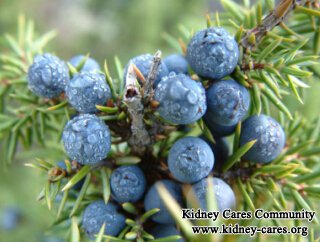 Juniper berry is favored by many people for its unique flavor. But its various medical properties seldom attacks people's attention. It is often to be used in herbal remedies. Can juniper berry help the kidney patients restore kidney function? This is a question consulted on our website. If you also would like to know the answer, please go on reading.
Juniper berry is diuretic.
When the kidneys are not functioning properly, toxins build up in the body. If you can not remove them from the body, they will cause uremia and affect your health. Juniper berry is diuretic, which can be used to cleanse the kidneys and flush harmful toxins from the body. It can also alleviate uncomfortable symptoms associated with kidney dysfunction, such as edema, kidney stone, urinary tract infection.
Juniper berry is good for arthritis.
Because of the declined kidney function, uric acid often accumulates in the body. If they deposit in the joint, they will cause arthritis or gout. Juniper berry can cleanse uric acid from your body so as to alleviate this symptoms.
Other health benefits
Juniper berry is also good for respiratory system, digestive system and skin. It can also help you reduce pressure and improve emotion.
Though juniper berry has so many health benefits for kidney patients, it can not be used for long term. Because it can worsen kidney problems, seizure and some other serious side effects. Therefore, you had better consult your doctor if you would like to add juniper berry into your treatment plan. If you trust us, please leave your basic information about your medical condition, our doctors can help you make a wise decision.
From the above we can see that the main function of juniper berry is only to cleanse kidney rather than restore kidney function. You need other herbs to help repair the damaged kidneys. Only in this way can you regain your kidney function and live a better life.