Tightly Control Of Symptoms To Slow Down CKD
2014-05-27 03:06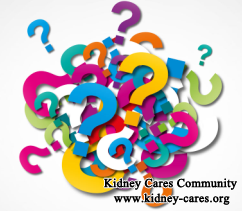 The prevention of Chronic Kidney Disease (CKD) is to slow down progression of kidney damage, prevent the occurrence of cardiovascular disease and other complications, such as renal osteopathy and anemia. The final goal is to decrease mortality rate and improve patients' life quality. Here we will mainly talk about how to slow down the development of CKD.
1. Block inflammation reaction
Various kidney diseases apply glucocorticoid, cyclophosphamide and ciclosporin, etc to block inflammation reaction. Long term use of medications will cause side effects like infection, nephrotoxicity and osteoporosis and other adverse reaction. For children, they may have debilitating developmental problems.
2. Control infections
Infection can lead to water and electrolytes disorder or circulatory failure which is able to aggravate kidney damage. Antibiotics should be applied reasonably to control infections. In addition, nephrotoxic drugs should be avoided.
3. Immune regulation
Chronic kidney disease patients often have immune disorder and apply medications to prevent inflammatory reaction. Thus, patients have a tendency to get infected. We use Immunotherapy to adjust their immune system to decrease the incidence rate of infection.
4. Eliminate bad factors
When patients have urinary stones, electrolytes imbalance or edema, these bad factors should be eliminated immediately.
5. Chinese herbs
Chinese herbs like salviae, cordyceps sinensis, astragalus and Chinese rhubarb have the ability of immune regulation and improving kidney function. As long as your renal function is improved, your related symptoms will be relieved naturally.
Tight control of symptoms and Chinese herbs to improve renal function can slow down the progression of kidney disease. If you want to know more information to delay renal disease, you can leave us a message to kidneycares@hotmail.com or consult our online doctor directly.