Can Acupuncture Work For Diabetes And Chronic Renal Disease
2014-04-28 06:33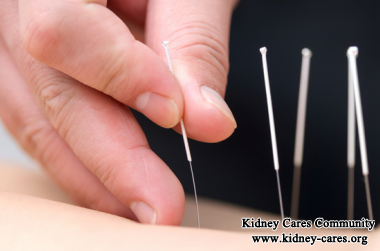 Acupuncture is one of Chinese medicine treatments. Diabetes is to be a "Thirsting and Wasting" disease that is caused by deficiency in the kidney/adrenal, pancreas, and lung organ/glandular system. Diabetes is a leading factor for chronic kidney disease (CKD) or chronic renal disease. Acupuncture is said to control blood sugar levels, and it is also good for alleviating CKD.
How does acupuncture work diabetes?
Acupuncture is able to control blood sugar levels, reducing appetite and thirst, improving blood flow and circulation and preserving nerve function. There are 20 used acupuncture points that help to control blood sugar level.
Acupuncture is an excellent remedy for younger people who are diagnosed with diabetes in controlling blood sugar levels. Acupuncture helps manage cholesterol levels which reduce the cardiovascular complications of diabetes.
Acupuncture treatments for diabetes are usually on-going and used long-term to manage diabetes symptoms. Treatments are 1-2 times a week related to blood sugar level and symptoms. Acupuncture together with herbal medicines can achieve the best results.
What does acupuncture do for CKD patients?
1. Alleviate renal ischemia and hypoxia
Acupuncture can dredge meridian and promote blood circulation. This can increase blood flow and provide enough oxygen and blood for kidneys deficient blood flow to kidneys will lead to renal ischemia and hypoxia state which causes kidney damage and even necrosis of kidney cells. Acupuncture can change this condition so as to prevent further kidney damage.
2. Help for controlling and stabilizing high blood pressure
3. Immune system function boost
4. Regulate endocrine disorders and promote metabolism
Acupuncture can regulate endocrine disorders and promote metabolism, which helps remove wastes and toxins accumulating in the body. This can relieve illness condition such as edema. Patients will feel better after acupuncture.
Acupuncture works well for diabetes and chronic kidney disease. And if acupuncture combines with Chinese herbal medicines like Micro-Chinese Medicine Osmotherapy to treat diabetes and CKD, the therapeutic effects will be more better.