What Is Precaution of Improving Kidney Function
2014-04-20 01:58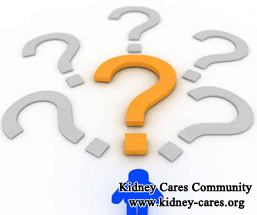 What is the precaution of improving kidney function? The management plan including the measures to delay the progression of your chronic kidney disease(CKD) depends on the stage of your kidney disease and any other accompanying medical conditions you may have. Here we just plan a general tips to improve kidney function or at least not aggravate your kidney status.
1. Manage the accompanying medical conditionsa
Control high blood pressure
Exercise a good blood pressure control with a target goal of less than 130/80 mm/Hg. This can be achieved by strictly monitoring your life style and certain medications.
Life style to maintain a good blood pressure includes regular exercise and a change in your diet, namely a low salt diet.
Among the blood pressure medications, you may benefit from the addition of medications called angiotensin converting enzyme(ACE) inhibitors or angiotensin receptor blockers(ARBs). Studies have shown that these medications help to delay the progression of kidney disease through the decrease of protein leakage in the urine and also reduce the risk of cardiovascular disease.
Treat anemia and bone disease
You definitely need to monitor your haemoglobin and you may need erythropoietin(EPO) hormone injection.
Regarding the bone diseases, you may need to limit the amount of high-phosphorus foods in your diet, take a type of medication called phosphate-binder with your meals and snacks and take a form of vitamin D.
Avoid medications that can affect your kidneys like non-steroidal anti-inflammatory pain medications.
Manage high serum cholesterol level if you have hypercholesterolaemia.
2. Dietary modifications
Dietary tips include 30-40 gms of protein daily, low potassium and phosphorus, water limitation and less salt intake and so on.
3. Effective treatment
Apart from managing accompanying medical conditions and diet modifications, the more important thing you should do is to repair kidney damage and improve kidney function. In this regard, we recommend Micro-Chinese Medicine Osmotherapy to achieve this. This therapy is based on the traditional Chinese herbs medicines, but it is still different from traditional Chinese medicines. The active ingredients first should be micronized and then put on the location where kidneys are. In this way, the efficacy can come to the damaged kidneys directly with the aid of osmosis machine. And then the injured kidney cells can be restored and the self renewal ability of damaged kidney cells can be reactivated. More importantly, kidney function will be gradually strengthened.