How Is Heart Failure Caused by ESRD
2014-04-07 05:41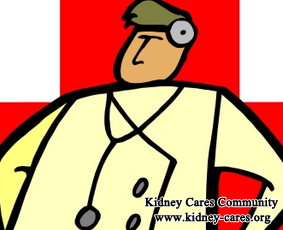 Patients with ESRD have many complications, especially heart failure which is very life-threatening. Thus, patients with ESRD must avoid heart failure in daily life, and here we mostly explain how heart failure is caused by ESRD, hoping it is helpful to you.
Eight factors in ESRD are the most important causes of heart failure, as following:
1. Hypervolemia
Blood volume can elevate during ESRD, which can increase left ventricular end-diastolic capacity and cardiac output. So function of left ventricular can be declined, leading to heart failure.
2. High blood pressure
Patients with ESRD have high blood pressure, making heart carry more burdens. Thus, ventricular wall hypertrophy and heart enlargement are very likely to occur. And high blood pressure can contribute to atherosclerosis. In this way, heart failure can be caused.
3. Deposition of toxins
Large quantities of toxins build up in body for patients with ESRD, which affects cardiac muscle. Thus, cardiomyopathy can be led to. What is morse, myocardial contractile can be declined, resulting in heart disease.
4. Electrolyte disorders
ESRD makes patients have serious disorder of electrolyte. In this way, cardiac excitability can be affected, resulting in cardiac arrhythmia and heart disease very possibly.
5. Anemia
Anemia is a very common symptom of ESRD, which can lead to cardiac myocardial anoxia. In this way, hear failure can be very easy to occur.
6. Arteriovenous fistula on dialysis
Patients with ESRD are always recommended to do dialysis . But during dialysis, as large inflow of blood is pulled out, cardiac can be carried more burdens, thus, heart failure can be caused.
7. Atherosclerosis
Atherosclerosis is also very common with patients with ESRD. And atherosclerosis can make patients suffer from heart failure very easily.
8. Bad immunity
For patients with ESRD, immunity is very bad, so myocarditis and pericardium always occur. In this way, heart failure can be resulted in.
As a consequent, patients with ESRD should pay attention to heart failure in daily life, and they should treat the above points to prevent heart failure. If you have any question, please contact us freely. We are pleased to help you.