Angelica Sinensis: A Healthy Chinese Herb For CKD Patients
2014-03-05 16:15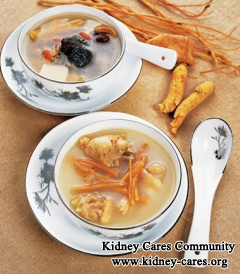 Angelica sinensis is one kind of Chinese herbs and has been proven that it has important medical properties. For instance, it can adjust your body's immune system and prevent arteriosclerosis, reduce blood lipid and prevent blood clot, especially for chronic kidney disease(CKD) patients. What are the healthy benefits of angelica sinensis on CKD patients?
1. Reduce kidney damage and protect kidney function
Angelica sinensis is able to alleviate renal ischemia. After 60 mins, it can improve the glomerular filtration function and the reabsorption of renal tubular. In this way, damages on kidneys can be alleviated and the lesion of renal tubular can be improved, which both contributes to the protection of your kidneys.
2. Block blood blot
Angelica sinensis helps decrease the concentration of plasma fibrinogen and increase the cell surface of charge so as to promote the depolymerization of cells and decrease your blood flow's viscosity. In this way, blood blots can be prevented.
3. Anti-inflammation
Inflammation is one major risk for chronic kidney failure, so anti-inflammation of angelica sinensis is able to reduce your risk of CKD. The theory of anti-inflammation in angelica sinensis is by way of reducing the permeability of blood capillary and preventing synthesis or release of PGE2.
4. Adjust immune system
For IgA Nephropathy and Lupus Nephritis, they are both autoimmune kidney disease which is caused by immune disorder. Angelica sinensis helps to adjust immune system and enhance immunity which is beneficial for alleviating the conditions of autoimmune kidney disease.
Besides, angelica sinensis can also eliminate free radicals and resist antioxidant as well as balance substances' metabolism. All of these benefit to CKD patients' overall health condition. Whereas, as the illness condition is different from person to person, patients need to consult the doctor about the right dosage. If you have any question, you can leave a message below, we will give you the reply within 24 hours.