A Natural Way To Improve Renal Function-Medicated Bath
2013-08-27 09:45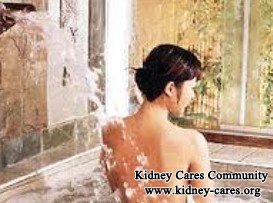 Medicated bath is a natural way to improve renal function. In china, medicated bath has existed for thousands of years. Since Qing dynasty, it has been an effective treatment for preventing and curing disease. For patients with renal damage, medicated bath is good to improve renal function.
What is medicated bath?
Medicated bath is a characteristic external therapy. According to the patients' illness condition, doctors choose the right herbal medicines and process them into medicated bath liquid. Then patients can use the medicated bath liquid to take a bath. Medicated bath has whole body bath, half-length bath and partial bath (hip bath, foot bath, face bath, eye bath, etc. ). It is easy to operate, cheap and painless for patients to take a medicated bath. Thus, medicated bath is highly appreciated by people.
How does medicated bath improve renal function?
1. Medicated bath can take human skin as a dialysis membrance and discharge out the toxins and water through sweat. When people are taking a medicated bath which can open the skin's pores and make the medicines into the body. Medicines combine with toxins inside the body. Under the thermal action, toxins are expelled out the body through sweat. In this process, medicated bath replaces some kidney's function of discharging out toxins, leading to the improvement of renal function.
2. Medicated bath also can improve the symptoms of the patients with kidney disease. If patients feel fatigue, swelling or poor appetite, they will feel comfortable after taking medicated bath for a few days. They will find they are energetic and want to eat something. Also, the edema is relieved. In addition, medicated bath has a special effect for patients with the symptom of itchy skin. Through improving the symptoms of kidney disease, medicated bath enhances the renal function.
3. Medicated bath contains many herbal elements which can dilates blood vessles and supply blood and oxygen to the kidney. So medicated bath improves the renal function directly.
In conclusion, medicated bath has the function to improve the blood circulation, discharge out the toxins and relieve the symptoms and so on. In our hospital, medicated bath is well accepted. It is not only effective to improve renal function, but it is easy to operate, cheap and painless. If you want to know more about the medicated bath, you can leave your information in the message board. Later, our experts will contact you.