Yarrow for Chronic Kidney Disease(CKD) Treatment
2013-06-16 16:14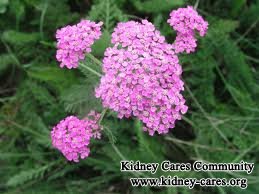 Yarrow has been used as a natural relief of pains for chronic kidney disease patients. It can be used to ease the urinary tract infection and inflammations and it is also good for protecting the urinary tract after kidney stones are passed into urine.
Chronic pains are very common CKD patients such as back pain, kidney pain, abdominal pain, flank pain, joint pains, etc. Yarrow has good soothing of pains for the patients.
Besides as a natural pain relief, yarrow has many other beneficial curative effects for kidney disease patients.
Yarrow has anti-inflammatory properties. We know that chronic kidney disease is kidney damage caused by various factors among which abnormal renal inflammatory reactions are the common one. What is more, kidney disease patients usually have low immunity and they are very easy to get various bacteria and viruses infections which often in turn make illness conditions even worse. Yarrow has been found to help CKD patients to fight against various viruses and bacteria, therefore it is a very good prevention and treatment option for CKD patients.
Yarrow has haemostatic property and it can be used to stop bleeding which is quite common among kidney disease patients especially gastrointestinal hemorrhage, blood in urine, etc.
Anemia is very common among CKD patients especially those that have developed into stage 3 CKD or more advanced stages. Yarrow can act on the bone marrow to stimulate the production of more red blood cells so as to have very obvious effects on easing anemia. It can also help the circulatory system and it is good for those that have coronary heart disease.
Yarrow can be taken as tea or it can be consumed in the form of medicated bath or massage. It is completely natural and safe for CKD patients.
Yarrow has many other health benefits and it is a natural herb that is good for nearly all ailments and illness conditions such as open wounds, varicose ulcers, skin allergy, burns, etc.
Even though, long term intake of high dose of yarrow should be avoided and it is recommended that a doctor should be consulted before taking this herb.
Our Treatment Effect
High creatinine level is dangerous to a kidney patient
Move the mouse to enlarge the picture
If you also want to reduce your high creatinine level, please look at this patient's report. When he was just hospitalized in our hospital on Dec 11, 2018,
His creatinine:1028umol/L,
urea: 39.7mmol/L
UA : 513umol/L
After a period of our treatment,
his creatinine:331umol/L, urea:16.1mmol/L
UA :325umol/L on Jan 5, 2019.
His condition was getting better and better. You can also get better.
For a CKD patient, you can choose Chinese medicine treatments to control your condition. your creatinine level can be reduced radically, symptoms can be alleviated and more importantly, your renal function will be improved. In this way, you can stay away from end stage kidney disease and avoid dialysis.