Turmeric And Kidney Health
2013-04-28 14:54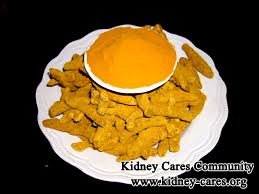 Turmeric is a herb from the ginger family and it grows throughout the India. It is not only a widely used and favored spice in curry, but also of high medical values.
Turmeric has long been used in both Chinese and Ayurvedic medicine system and it can be beneficial for enhancing the body's overall health, preventing and treating a variety of illness conditions such as diabetes, osteoarthritis, atherosclerosis, stomach ulcers, gallstones, poor appetite, liver problem, heart burn, cancer, headache, kidney inflammation and other kidney-related complications.
Turmeric has anti-inflammatory properties so it can help prevent and treat kidney inflammation and kidney infections. It is also a natural remedy for relieving headache and pains for the patients.
Turmeric can help lower triglyceride and cholesterol levels in the blood so as to help control high blood pressure and reduce the risk of developing cardiovascular complications. This can help greatly prolong the patient's life expectancy because cardiovascular complications are the major threatens to kidney disease patients.
Turmeric is beneficial for treating diabetes and controlling high blood glucose levels so as to reduce kidney damages and other diabetes-related complications.
Turmeric has similar curative effects as non-steroid anti-inflammatory drugs, but it is more natural and has no potential renal toxicities if it is taken with the proper dosage under the doctor's order.
Active ingredient curcumin in turmeric is a potent antioxidant. It can help fight against free radicals which is the very root cause of a variety of diseases and aging. It can help protect residual renal functional cells and tissues suffer less harms or injuries.
Turmeric is good for post-transplant patients. It can help reduce the chance of organ rejection so as to greatly improve the survival rate and life span of kidney transplant.
One more thing need to be noted is that turmeric is high in potassium, therefore not every patient is suitable to have it. It should be excluded if patients have already developed high blood potassium levels. People with gallbladder disease should not have turmeric.
Consult your doctors before taking turmeric especially if you have kidney disease and take other drugs or medicines now.
Our Treatment Effect
High creatinine level is dangerous to a kidney patient
Move the mouse to enlarge the picture
If you also want to reduce your high creatinine level, please look at this patient's report. When he was just hospitalized in our hospital on Dec 11, 2018,
His creatinine:1028umol/L,
urea: 39.7mmol/L
UA : 513umol/L
After a period of our treatment,
his creatinine:331umol/L, urea:16.1mmol/L
UA :325umol/L on Jan 5, 2019.
His condition was getting better and better. You can also get better.
For a CKD patient, you can choose Chinese medicine treatments to control your condition. your creatinine level can be reduced radically, symptoms can be alleviated and more importantly, your renal function will be improved. In this way, you can stay away from end stage kidney disease and avoid dialysis.
Say goodbye to dialysis