Is Oatmeal Good for Chronic Kidney Disease
2013-03-16 14:55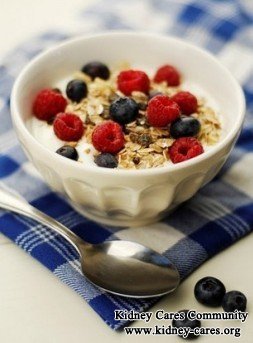 Oatmeal has lots of health benefits and is commonly eaten as breakfast. However, because of the serious diet limitation, Chronic Kidney Disease patients must wonder if oatmeal is good for them. Actually, chronic kidney disease patients can eat oatmeal, because it can bring them lots of health benefits.
The health benefits of oatmeal on chronic kidney disease go as follows:
1. Oatmeal helps to control cholesterol
It is said one and a half cups of oatmeal contains more than five grams of soluble fiber which can help to inhibit the body's absorption of low-density-lipoprotein (LDL), a bad cholesterol. For people with Nephrotic Syndrome, a kind of kidney problem, they are at high risk to develop hyperlipidaemia and eating oatmeal regularly will them to reduce their risk.
2. Oatmeal helps to control blood pressure
Oatmeal is high in fiber that can offer many cardiovascular benefits; for instance, oatmeal helps to reduce the risk of developing high blood pressure which is one of the common symptoms of Chronic Kidney Disease.
3. Boost immune system
Oatmeal contains beta-gluten fiber which not only helps to fight against heart disease, but also helps to boost immune system. A strong immune system makes Chronic Kidney Disease patients be able to avoid infection and cold which are the leading two aggravating factors.
4. It helps to stabilize blood sugar
High blood sugar can worsen illness condition and accelerate Chronic Kidney Disease. Oatmeal stabilizes blood sugar level, which to some extent is beneficial for CKD patients.
5. It prevents the arteries from hardening
In some cases of Chronic Kidney Disease, illness condition progresses as more and more renal arteries harden. Oatmeal prevents the arteries from hardening, and this can prevent illness condition from worsening.
Get free online analysis for your illness condition here. Choose any of the following tools to start instant communication with our experts.
Leave Message
Leave your problem to us, we are here to help you with free charge!