Wheat Grass And Kidney Disease
2013-02-26 09:50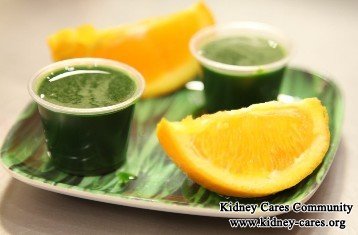 Many kidney disease patients are taking wheat grass juice for cleaning, nourishing their kidneys and alkalizing their body.
Wheat grass is a natural herb that are good for relieving symptoms and protecting kidney functions for CKD patients. It contains fatty acids, 17 amino acids, 13 vitamins, 10 minerals, more than 100 kinds of enzymes as well as protein, carbohydrates, fiber, etc. It is a very good natural remedy for kidney diseases.
Wheat grass has especially good effects for polycystic kidney disease. For those that are suffering from simple kidney cysts or polycystic kidney disease, taking wheat grass for a period of time, the severe back pain and abdominal pains will be much relieved and patients' illness conditions will have obvious improvement. What is more important, wheat grass can slow down the growth rate of the cysts so as to treat the cystic kidney disease from the root.
After taking wheat grass, all the laboratory results can gradually return to normal and it has very few side effects even after long term intake.
Kidney disease patients often suffer from anemia due to endocrine disorder and low red blood cell count, wheat grass can improve blood content and hemoglobin so as to relieve renal anemia and increase blood and oxygen supply to the kidneys.
However not every kidney disease patient can take wheat grass because it contains large amount of potassium and too high blood potassium can cause the heart to stop beating and threaten the patients' life. Therefore especially for ESRD patients, they should better check their blood potassium level and consult the doctor's advice before taking wheat grass and ensure that their blood potassium is within safe range.
Besides taking wheat grass juice, there are many simple things that CKD patients can do to protect their kidneys. It is very simple, but very effective.
· if you have no edema, have more fluid intake to help increase urine output and wash out more wastes and toxins.
· have some supplement of diluted herbs such as wheat grass juice and other vegetable juices, dandelion root, etc.
· limit intake of meat products, salty foods, sweet foods and highly processed foods.
· monitor the intake of sodium, calcium, phosphorus and potassium.
· have regular check of blood pressure and blood sugar level.
Our Treatment Effect
High creatinine level is dangerous to a kidney patient
Move the mouse to enlarge the picture
If you also want to reduce your high creatinine level, please look at this patient's report. When he was just hospitalized in our hospital on Dec 11, 2018,
His creatinine:1028umol/L,
urea: 39.7mmol/L
UA : 513umol/L
After a period of our treatment,
his creatinine:331umol/L, urea:16.1mmol/L
UA :325umol/L on Jan 5, 2019.
His condition was getting better and better. You can also get better.
For a CKD patient, you can choose Chinese medicine treatments to control your condition. your creatinine level can be reduced radically, symptoms can be alleviated and more importantly, your renal function will be improved. In this way, you can stay away from end stage kidney disease and avoid dialysis.