Can High Blood Urea Level Cause Skin Itchy
2016-08-20 07:54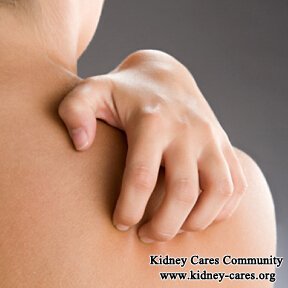 With the progression of kidney failure, blood urea nitrogen (BUN) level increases gradually. Some patients begin to complain about skin itchy. Can high blood urea level cause skin itchy? Go on reading to learn more information.
Skin itchy is associated with high blood urea level.
The damaged kidneys can not remove waste products from blood adequately so that urea builds up. The retention of urea can stimulate skin, making your sebaceous glands and sweat glands shrunk. And then your skin will become dry, leading to skin itchy.
Besides, skin itchy may be associated with electrolyte disorder.
With the impaired kidneys, it is likely for you to suffer from high blood phosphorus level, which is a common cause of skin itchy as well.

Treatment for skin itchy in kidney disease
If you suffer from skin itchy, you should find out what on earth causes your skin itchy and then take corresponding measures. Besides, you can also have a try at Medicated Full Bath. This therapy is to take a full bath into the diluted medicinal soup. In the soup, some herbs are put to help you relieve the itch. Besides, this therapy can help cleanse waste products from the blood and improve kidney function. If you combine it with some other Chinese medicine therapies, such as medicated foot bath, steam therapy, enema therapy, circle therapy, acupuncture and moxibustion, etc. The effect will be better. Because those therapies can not clear waste products in the blood, but also draw toxins out of the renal cells. And they can also dilate blood vessels and remove stasis to improve blood circulation and increase blood flow into damaged kidneys. After a period of treatment, your urea level and phosphorus level will decrease. And your kidney function will improve gradually. With the improvement of kidney function, everything will be better.
Can high blood urea level cause skin itchy? Yes, it can. Your skin itchy will become worse and worse if you do not treat your kidney failure timely. For more information on kidney failure treatment, please contact online doctor or leave a message below.