What Are Cutaneous Manifestations In CKD Patients Under Dialysis
2015-10-20 09:03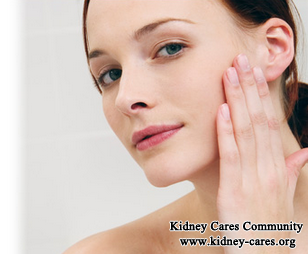 Cutaneous manifestation can precede or follow the initiation of dialysis treatment in chronic kidney disease (CKD). And there are more chances to develop newer skin changes during the course of dialysis therapy, which may affect the quality of life. Well what are cutaneous manifestation in CKD patients under dialysis?
1. Pruritus
Pruritus accounted for 56% of the total study population (One hundred and forty-three patients under dialysis were evaluated). It manifested even before dialysis in 28 patients. Pruritus was found to be severe in diabetic patients.
2. Xerosis
52% of the study population was found to have Xerosis.
3. Diffuse blackish hyperpigmentation
This was seen in 40% and was predominant in sun-exposed area. This is because of the failure of kidneys to excrete beta-melanocyte stimulating hormone and resultant melanin being deposited in basal layer as well as superficial dermis.
4. Skin infections
53% patients suffered from skin infections, of these fungal, bacterial and viral infections were 27.2%, 14.6% and 11.2% respectively. The higher risk of infections is due to diabetes, low albumin, elevated intracellular calcium, acidosis, or repetitive vascular procedures.
In the study, pruritus, xerosis and pigmentation were higher among skin manifestation. Recognition and management of some of these skin manifestation reduce the morbidity and improve the quality of life.
In order to treat cutaneous manifestation in CKD, the right treatment should be Chinese medicine treatment. Chinese medicine treatment includes Micro-Chinese Medicine Osmotherapy, Medicated bath, foot bath and Mai Kang Mixture, etc. All these therapies are natural and effective in repairing damaged kidney tissues and improving kidney function. As long as kidney function is improved, cutaneous manifestation will be improved vastly. According to your illness condition, suitable treatment and herbs will be chosen. Thus, if you want to try our treatment, you can send your illness condition to kidneycares@hotmail.com. Our experts will give you a treatment plan.