What Can Cause the Swelling Of Stomach For Patients With CKD
2015-10-05 02:22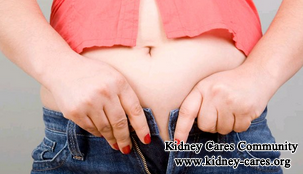 What can cause the swelling of stomach for patients with chronic kidney disease (CKD)? Many people who have chronic kidney disease do not know it, because the early signs can be very subtle. However, for people at any stage of kidney disease, knowledge is power. Knowing the symptoms of kidney disease can help you get the treatment you need to feel your best.
1. What can cause the swelling of stomach?
A wide variety of medical conditions can cause edema, including kidney, liver and heart disease. In kidney disease, swelling is caused when failing kidneys do not remove extra fluid, which builds up in your body. Swelling usually occurs in the legs, ankles, feet, face, and/or hands and then spreads to your whole body including your stomach.
2. How to treat swelling of stomach?
Minimize sodium intake
High levels of sodium may worsen swelling so avoid consuming foods with lots of sodium. Usually kidney disease patients need to avoid canned food, processed food, pickles and fast foods. Cooking your own food fresh is a good way to avoid eating too much salt. Restaurants tend to use a lot of salt to pack their food with flavor, but that can take a toll when it comes to bloating.
Diuretics
Diuretics can discharge excess fluid out of the body through increasing kidney output. Besides western medications, some Chinese herbs also have diuretic properties such as dandelion root, nettle leaf, saliva and corn silk, etc. These herbs can help alleviate swelling effectively without side effects.
Chinese medicines in our hospital
Diet and diuretics help treat swelling superficially but our Chinese medicines can treat swelling from the root. The active ingredients in Chinese medicines can come to kidney lesion directly with the help of osmosis device and osmosis penetrant. Through expanding blood vessels, preventing inflammation and coagulation, degrading extracellular matrix and providing necessary nutrients, Chinese medicines can repair injured kidneys and improve kidney function. When kidney function is improved, it can discharge excess fluid from the body so as to alleviate swelling radically. On the basis of Chinese medicines, we have Micro-Chinese Medicine Osmotherapy, Medicated Foot Bath, Mai Kang Mixture and Medicinal Soup, etc. All these help improve kidney function effectively. If you want to learn more information about our Chinese medicine treatment, you can leave us a message below or consult our online doctor directly.
Our Treatment Effect
High creatinine level is dangerous to a kidney patient
Move the mouse to enlarge the picture
If you also want to reduce your high creatinine level, please look at this patient's report. When he was just hospitalized in our hospital on Dec 11, 2018,
His creatinine:1028umol/L,
urea: 39.7mmol/L
UA : 513umol/L
After a period of our treatment,
his creatinine:331umol/L, urea:16.1mmol/L
UA :325umol/L on Jan 5, 2019.
His condition was getting better and better. You can also get better.
For a CKD patient, you can choose Chinese medicine treatments to control your condition. your creatinine level can be reduced radically, symptoms can be alleviated and more importantly, your renal function will be improved. In this way, you can stay away from end stage kidney disease and avoid dialysis.