Kidney Disease Symptoms In Children
2015-09-23 08:27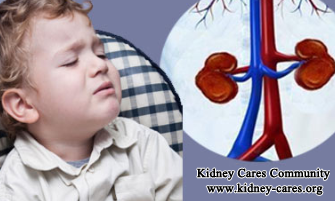 What are symptoms when children suffer from kidney disease? The main cause of kidney disease in children is caused by their immune system disorder. At this time, if without effective treatment, it will cause complications. Therefore, once children are experiencing kidney disease, they should take treatment as soon as possible. Here let's see what symptoms will children suffer from.
1. Massive proteinuria
Massive proteinuria is the most common symptom in kidney disease. Due to the change of glomerular permeability, large amounts of plasma protein will leak into urine from blood, forming proteinuria. Since there is large amounts of protein in urine, the urine is usually foamy.
2. Severe swelling
Swelling is the most obvious symptom in nephrotic syndrome. The swelling is often to be seen in face, legs and then the whole body.
3. Hypoalbuminemia
Since patients have massive proteinuria, it causes the loss of protein in plasma. Thus, total plasma protein reduces and albumin reduces obviously.
4. External manifestation
Due to loss of lots of protein, children may suffer from protein-malnutrition like dry and yellow hair, dry skin and hair follicle cornification. Besides, children may also suffer from malnourished anemia. Patients at this condition usually have poor immunity, stunted growth and somnolence.
Dietary management for children with kidney disease
For children with kidney disease, nutrition is vital because their diet can affect how well their kidneys work. Their parents should always consult with their child's health care team before making any dietary changes. Children should pay attention to the following elements of a diet:
1. Protein
Children with kidney disease should eat enough protein for growth while limiting high protein intake. Too much protein intake can burden their kidneys and cause kidney function to decline faster. Foods with protein are eggs, milk, chicken, cheese, fish, red meats, beans, yogurt and cottage cheese.
2. Sodium
Sodium intake should depend on the stage of their kidney disease. Generally kidney disease patients should limit or avoid high sodium foods like canned foods, some frozen foods, most processed foods and some snack foods.
3. Potassium and phosphorus
Children may need to stay away from some food with high potassium and high phosphorus level. Low potassium food include apples, cranberries, blueberries, pineapple, cabbage, boiled cauliflower and raspberries. Low phosphorus foods include green beans, popcorn, root beer, rice and corn cereals and egg white.
Our Treatment Effect
High creatinine level is dangerous to a kidney patient
Move the mouse to enlarge the picture
If you also want to reduce your high creatinine level, please look at this patient's report. When he was just hospitalized in our hospital on Dec 11, 2018,
His creatinine:1028umol/L,
urea: 39.7mmol/L
UA : 513umol/L
After a period of our treatment,
his creatinine:331umol/L, urea:16.1mmol/L
UA :325umol/L on Jan 5, 2019.
His condition was getting better and better. You can also get better.
For a CKD patient, you can choose Chinese medicine treatments to control your condition. your creatinine level can be reduced radically, symptoms can be alleviated and more importantly, your renal function will be improved. In this way, you can stay away from end stage kidney disease and avoid dialysis.