Can Weak Kidneys Cause Bad Taste In Mouth
2015-09-03 07:59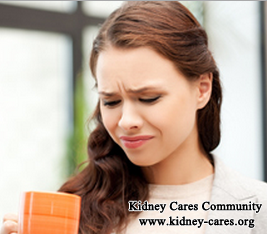 Can weak kidneys cause bad taste in mouth? As we all know, diseased or damaged kidneys can cause 9various symptoms like changes in urination, swelling, fatigue, skin rash or itching and bad taste in mouth like metallic taste in mouth or amonia breath. Well then, how does weak kidneys cause bad taste in mouth?
What causes bad taste in mouth?
Urea level in the blood will increase due to weak kidneys. The urea is broken down to ammonia in the saliva causing urine-like bad breath called ammonia breath. However, for kidney disease patients, since their kidneys fail to discharge wastes out of the body due to declined kidney function, the wastes will build up in the body. When the wastes involve the digestive system or respiratory system, the bad taste will occur. The bad taste usually include metallic taste in mouth or amonia breath. Patients in this condition may suffer from loss of appetite, nausea, vomiting and weight loss.
In addition, bad taste in mouth also can be a side effect of certain drugs. Kidney disease patients are usually prescribed various medications. Certain drugs can cause a bad taste in mouth.
What is the treatment for bad taste in mouth?
First, we need to purify the blood through removing urea and other wastes from the body. We recommend Blood Purification Therapy which is one of the significant natural treatments. This therapy involves many Blood Purification techniques to remove blood wastes, toxins and metabolites out of the body. Besides, this therapy also provides necessary nutrients for damaged kidneys. Then a clean and favorable environment is established, which is beneficial for kidney recovery.
Second, Micro-Chinese Medicine Osmotherapy is used. This therapy is an external application. Patients just need to lie on bed to take this remedy. With the help of osmosis device, the active ingredients can come to kidney lesion directly. Through expanding blood vessels, preventing inflammation and coagulation, degrading extracellular matrix and improving blood microcirculation, injured kidneys can be repaired gradually. Also kidney function will be improved. Thus, the bad taste can be solved from the root.
Our Treatment Effect
High creatinine level is dangerous to a kidney patient
Move the mouse to enlarge the picture
If you also want to reduce your high creatinine level, please look at this patient's report. When he was just hospitalized in our hospital on Dec 11, 2018,
His creatinine:1028umol/L,
urea: 39.7mmol/L
UA : 513umol/L
After a period of our treatment,
his creatinine:331umol/L, urea:16.1mmol/L
UA :325umol/L on Jan 5, 2019.
His condition was getting better and better. You can also get better.
For a CKD patient, you can choose Chinese medicine treatments to control your condition. your creatinine level can be reduced radically, symptoms can be alleviated and more importantly, your renal function will be improved. In this way, you can stay away from end stage kidney disease and avoid dialysis.