What Causes Painful Feet In Kidney Disease
2015-08-17 08:01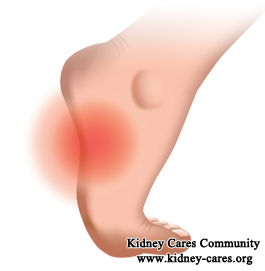 Painful feet can be caused by many factors. The temporary pain on feet can be caused by a stone and long-term standing. However, when you suffer from persistent feet pain, you should pay much attention to it because it may indicate a medical condition such as a kidney disease. Well then, what causes painful feet in kidney disease?
Healthy kidneys are responsible for removing the metabolic waste products from our body to guarantee our body health. However when kidneys are damaged, kidneys fail to function properly. In such a condition, patients will suffer from various symptoms. In severe case, it can induce some complications.
Swelling
Feet swelling can make your feet pain. In kidney disease, excess water and sodium cannot be removed efficiently from the blood. Water-sodium retention can result in feet swelling. In this condition, the swollen feet can make you feel pain.
Diabetes is one leading cause of kidney disease. With diabetes, the glucose or blood sugar can build up in your blood. This excess sugar can damage your nerves and blood vessels in feet, causing decreased sensation and compromised blood flow. Consequently, symptoms of high blood sugar include numbness or tingling in feet as well as severe foot infection.
Gout
Gout is another complication of kidney disease. When the kidneys are not functioning properly, uric acid will accumulate in the body. Deposits of uric acid collect in the joints-particularly in your bog toes, and cause intense, episodic pain. Besides, uric acid can also cause kidney stone and cause kidney pain if too much of it piles up in the kidneys.
The above factors can cause painful feet in kidney disease. The most effective way to alleviate this painful feeling is to take Chinese medicines which can improve kidney function greatly. If you want to know the detailed information, you can leave us a message below or email us to kidneycares@hotmail.com.
Our Treatment Effect
High creatinine level is dangerous to a kidney patient
Move the mouse to enlarge the picture
If you also want to reduce your high creatinine level, please look at this patient's report. When he was just hospitalized in our hospital on Dec 11, 2018,
His creatinine:1028umol/L,
urea: 39.7mmol/L
UA : 513umol/L
After a period of our treatment,
his creatinine:331umol/L, urea:16.1mmol/L
UA :325umol/L on Jan 5, 2019.
His condition was getting better and better. You can also get better.
For a CKD patient, you can choose Chinese medicine treatments to control your condition. your creatinine level can be reduced radically, symptoms can be alleviated and more importantly, your renal function will be improved. In this way, you can stay away from end stage kidney disease and avoid dialysis.