What Are Consequences Of Shrunken Kidney
2015-08-05 08:58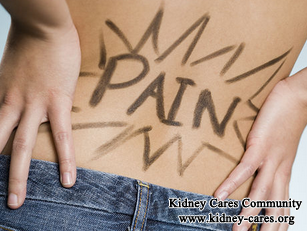 Kidney shrinkage refers to the kidney shrinks into a smaller than the normal size. Normal kidney is as large as 10-12cm. What will happen when kidney is smaller than the normal size?
1. What symptoms will happen in kidney shrinkage?
If you suffer from kidney shrinkage, you may have the following symptoms: nausea, vomiting, itchy skin, swelling, back pain, hematuria and high blood pressure, etc. Besides, patients may also get repeated infections and colds.
2. What causes kidney shrinkage?
Generally speaking, kidney shrinkage is a result of kidney problems, especially chronic kidney disease. Kidney disease can damage nephrons and glomeruli necrosis will cause kidney shrinkage gradually. People who suffer from CKD stage 4, kidney failure, diabetic nephropathy and hypertensive nephropathy have increased risk to get kidney shrinkage.
3. What is the treatment for kidney shrinkage?
The treatment for kidney shrinkage should aim at repairing the damaged kidney tissues, alleviate symptoms and improve renal function.
Micro-Chinese Medicine Osmotherapy is suggested for many kidney shrinkage patients. This therapy can promote blood circulation in the injured kidney tissues so as to provide more blood and oxygen to improve the self-cure. When the injured glomeruli come to fresh and functioning, kidney shrinkage will be alleviated spontaneously. Besides, this therapy can help alleviate back pain and treat renal anemia, etc.
Additionally, dietary therapy also plays an important role in the treatment of kidney shrinkage. People with shrunken kidney are suggested to follow a low salt, low fat and low potassium diet. Fast food, processed food and quick-frozen foods should be reduced. Most of them are rich in salt and potassium.
If you still have any unclear, just feel free to talk with our online doctor or leave us a message to kidneycares@hotmail.com. We will help you free of charge. Good luck to you.