Why Is There Eyelid Swelling In Kidney Disease
2015-07-16 09:24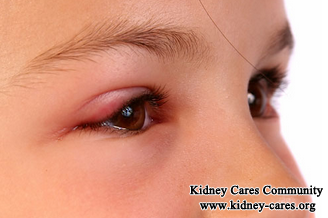 Why is there eyelid swelling in kidney disease patients? Swollen eyelids not only cause a lot of pain and discomfort, but also hinders normal vision. Let's find out the causes of swollen eyelids in kidney disease.
1. Causes of eyelid swelling in kidney disease
Fluid retention
If you have swollen eyelids, fluid retention is the major cause. Healthy kidneys can discharge excessive fluid from the body while damaged kidneys fail to remove fluid from the body. Under such a condition, fluid retention will occur. Retention of fluid in the subcutaneous tissues can be seen. Thus, kidney disease patients will wake up with swollen eyelids in the morning.
Massive proteinuria
Another possible cause may be massive loss of protein in the urine due to impairment of glomerular filtering ability. If left untreated, low protein level in blood and swelling will appear.
2. Treatment for eyelid swelling in kidney disease
Micro-Chinese Medicine Osmotherapy is a remedy which focuses on repairing kidney damage and improving kidney function through dilating blood vessels, preventing inflammation and coagulation, degrading extracellular matrix and providing necessary nutrients. This therapy is an external application. With the help of osmosis device, the active ingredients can come into kidney lesion directly and have no side effect to human body.
Additionally, a low sodium diet and staying away from high sodium foods like bacon, pickles, canned soup and processed foods is able to alleviate water retention and ease swollen eyelids.
Eyelid swelling can also be caused by other conditions like allergic reaction, conjunctivitis and blepharitis. Depending on the underlying causes, treatment is different. Eyelid swelling can be treated only after ascertaining the underlying causes. Thus, it is important to get the condition medically evaluated or you can leave a message below. We will give you some suggestion based on your medical condition.