Can Infection Be From Chronic Kidney Disease
2015-07-16 06:07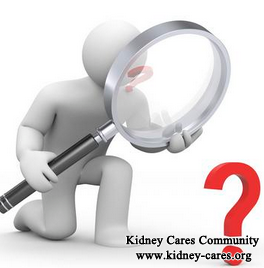 An infection occurs when harmful bacteria or viruses enter the body. People with kidney disease can be more prone to infection. Well then, what are the causes of infection in chronic kidney disease (CKD)?
1. Causes of infection in kidney disease
People with kidney disease can be more prone to infection because of related conditions such as diabetes, inadequate calories and protein intake, and the access site can be vulnerable to infection.
Diabetes and infections
If you have diabetes and chronic kidney disease (CKD), you have a risk for diabetes-related infections. Too much sugar in the blood prevents white blood cells from doing their jobs so it is important to monitor and maintain good glucose levels.
A viral infection from the flu, or a bacterial infection from a cut or surgical procedure, can cause blood glucose levels to increase. Under such a condition, diabetes have a longer time to recover.
Access sites
Because access sites allow for the entry and exit of dialysate or blood, either through a catheter or through puncture with a needle, they can also serve as a possible entry site for bacteria.
2. Treatment for infection in kidney disease
Keep the access site clean
If you are on dialysis, you will be instructed on how to keep your access site clean and look for any signs of infection. If you are on home dialysis, you will be taught on the importance of hygiene.
Wash your hands
Cold and flu germs can be on doorknobs, sink faucets and newspapers. If you touch something, you have risk for infection.
Eat nutritious foods
Consuming adequate amounts of protein, calories and nutrients build your body's immune system. As for patients on dialysis, renal dietitians create an eating plan based on individual nutrition needs.
Take Immunotherapy
Immunotherapy is a promising new kidney disease treatment that stimulates a patient's immune system so it is better able to fight infection. By way of an accurate diagnosis, immune blocking, immune clearance, immune tolerance, immune regulation and immune protection, damaged kidney cells can be repaired and tissues and organic system can get rebuilt. If you want to know detailed information about this therapy, you can leave a message below or consult our online doctor directly.