Arthritis Treatment in People with Chronic Kidney Disease
2015-06-17 08:32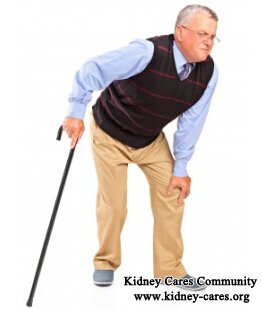 Arthritis is a common complication of Chronic Kidney Disease (CKD). Because kidney function is impaired, patients can not use medications blindly for arthritis in case that they cause further damage to the kidneys. What is the arthritis treatment in people with CKD?
The most common used drugs for arthritis may be non-steroidal anti-inflammatory drugs (NSAIDs), such as ibuprofen or naproxen, but they usually have renal toxicity so that you may need to avoid them. In fact, there are many other options for arthritis and kidney patients. The first options is Tylenol, which is an analgesis, not an NASID. Injections of hyaluronic acid compounds such as Hyalgan, Orthovisc, Supartz and Synvisc may provide relief in affected joints without involving the kidneys as well. Besides, there are topical products for arthritis that affects only one or two joints, such as Voltaren Gel. The most effective of the over-the-counter products is probably capsaicin cream.
For kidney patients, their arthritis is usually associated with their diminished kidney function. Because the damaged kidneys can not remove waste products from the blood, they build up in the body. Uric acid is one of them. When their concentration is very high, they may become crystal and deposit in the joints, leading to joint inflammation. Therefore, it is necessary for you to promote your kidney function so as to remove excessive uric acid from the blood. 4M treatment (Micro-Chinese Medicine Osmotherapy, Medicated Foot Bath, Mai Kang Mixture and various medicinal soup) and 7 external therapies (steam therapy, enema therapy, medicated full bath, circle therapy, acupoint application, acupuncture and moxibustion) can help you a lot. They can set up a good blood environment for kidney self-healing and at the same time they provide the essential nutrients, such as vitamins and amino acids to speed up kidney recovery. With the improvement of kidney function, blood uric acid level will decrease so as to reduce the occurrence of arthritis.
The above information is just a general introduction to arthritis treatment in people with CKD. Because different patients have different conditions, they need different treatment plans. If you would like to know more information, please leave a message below or send emails to kidneycares@hotmail.com.