Side Effects For High Level Phosphorus In Chronic Kidney Disease
2015-06-04 09:34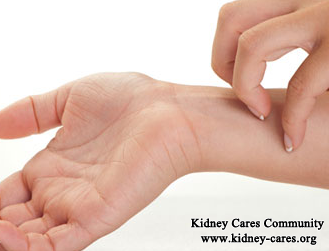 One function of the kidney is to remove extra phosphorus in your blood. When you have chronic kidney disease (CKD), kidneys cannot remove phosphorus very well. High phosphorus levels can cause damage to your body. Well then, what are side effects of high levels of phosphorus in CKD?
1. Possible side effects of high phosphorus levels
Bone disease
High phosphorus levels in blood cause calcium to be pulled out of the bone, this calcium loss may lead to thinner and weaker bones. This condition is known as osteodystrophy.
Skin problem
Calcium and phosphorus may combine to form stone-like deposits. These deposits can end up in soft tissue such as skin. Itching, bone pain, red eyes and scaled skin can result from high phosphorus levels.
2. How to lower high phosphorus level in blood?
Diet
In order to lower high phosphorus level in blood, you may need to limit the amount of high and moderate phosphorus foods you eat, including milk, cheese, milk products, protein foods such as meat, fish and poultry. But you may need some milk products and protein foods for overall good nutrition, so your doctor or our online doctor will make sure you have enough of these i your daily eating plan. High phosphorus foods such as seeds, nuts, dried peas, beans and bran cereals are not included in your daily diet plan.
Medicines
Medicines should prevent the phosphorus in the foods you eat from being absorbed into the blood. These medicines are calcium carbonate, alucaps and carafate. Follow your doctor's prescription for the amount and when to take these medicines.
Chinese medicines
The radical solution for lowering high phosphorus level is to repair injured kidneys and improve kidney function. Chinese medicines can achieve that goal. On the basis of traditional Chinese Medicine (TCM), we innovate unique Chinese medicine treatments like Micro-Chinese Medicine Osmotherapy, Medicated Bath, foot bath, enema therapy and Mai Kang Mixture, etc. These remedies have shown great therapeutic effect in repairing kidney damage and improving renal function. When renal function is improved, kidneys can remove extra phosphorus in blood so as to lower high phosphorus level and reduce side effects of elevated phosphorus.
Our Treatment Effect
High creatinine level is dangerous to a kidney patient
Move the mouse to enlarge the picture
If you also want to reduce your high creatinine level, please look at this patient's report. When he was just hospitalized in our hospital on Dec 11, 2018,
His creatinine:1028umol/L,
urea: 39.7mmol/L
UA : 513umol/L
After a period of our treatment,
his creatinine:331umol/L, urea:16.1mmol/L
UA :325umol/L on Jan 5, 2019.
His condition was getting better and better. You can also get better.
For a CKD patient, you can choose Chinese medicine treatments to control your condition. your creatinine level can be reduced radically, symptoms can be alleviated and more importantly, your renal function will be improved. In this way, you can stay away from end stage kidney disease and avoid dialysis.