What Are Symptoms Of Kidney Disease In Children
2015-05-21 09:02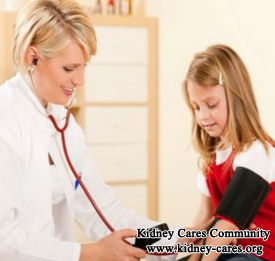 What are symptoms when children suffer from kidney disease? Kidney disease is a common disease nowadays and this disease bothers many people. Here we will introduce kidney disease symptoms in children.
1. Abnormal urination
When a child suffers from kidney disease, he or she will have urine changes like frequent urination at night, darker urine, decreased urine output and bubbly urine. Since children are lack of illness consciousness, they do not pay attention to their urine changes even if there is change in their urine. Therefore, parents should pay more attention to children' daily action.
2. Decreased immunity
When children suffer from kidney disease, their immunity will also decrease. In this condition, poor appetite, pale complexion, protein malnutrition, dry hair, dry skin, anemia, infection and developmental retardation.
3. Urine protein
Urine protein is mainly caused by damaged kidney intrinsic cells, renal hypoxia and anoxia and increased glomerular filtration membrane permeability. Protein will escape from urine. Steroids are applied to alleviate protein in urine temporarily but cannot repair injured kidneys. Once children get cold or infection, their disease are easy to relapse.
4. Swelling
In the early of kidney disease, children will have swelling in lower extremities, face and eyelids especially in tissue loose spot. Sometimes children will have pulmonary edema and ascites. With severe swelling, skin is thin and clearer. A slight damage will make the skin present fluid.
5. High blood pressure
High blood pressure and kidney disease go hand in hand because the kidneys are involved in blood pressure regulation. As hypertension is relatively rare in children in the absence of some other disorder such as kidney disease, parents should take it seriously. Angiotensin-converting enzyme inhibitors or ACE inhibitors can be used to treat high blood pressure. In addition ACE inhibitors can help treat elevated urine protein, which in turn helps minimize edema. Controlling high blood pressure is an important aspect of treatment because hypertension alone is damaging the kidneys, even in the absence of kidney disease.