Can Kidney Disease Cause Red Eyes
2015-05-17 09:14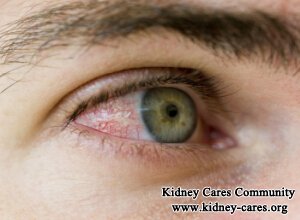 When kidneys go wrong, they become less efficient at removing waste products from the blood, which can cause many health problems, such as swelling, sickness, nausea, etc. Not a few kidney patients have red eyes. Can kidney disease cause red eyes? Go on reading to learn more information.
Causes of red eyes for kidney patients
-High blood pressure is a common cause of kidney failure. When your kidneys are damaged, they lose their ability to regulate blood pressure, so kidney patient often have high blood pressure. Without good control, it can cause further damage to the kidneys. When the blood pressure is very high in eyes, it can make thin blood vessels to be broken to cause the red eyes.
-Kidney patients usually have a poor immune system, so it is likely for them to have cold and flu. Red eyes is a common symptom of a cold or flu.
-Because of restless leg syndrome, stimulation of waste products to nerves and some other factors, many kidney patients have insomnia. It can cause red eyes as well.
How to deal with red eyes for kidney patients?
Treatment for red eyes varies, depending on its cause.
-If it is caused by high blood pressure, you should lower your blood pressure. ACEI and ARBs are the common used hypertensive drugs for kidney patients. If your hypertension is refractory, you can use interventional therapy to dilate blood vessels to lower blood pressure.
-If it is caused by cold or flu, when you get recover, red eyes disappear. Besides, you should strengthen your immune system to prevent cold or flu.
-If it is caused by lack of sleep, you should have a good rest.
Can kidney disease cause red eyes? Red eyes are just one of the symptoms of kidney disease. If you want to lead a normal life with kidney disease, you should repair the damaged kidneys and improve kidney function. Traditional Chinese Medicine has thousands of years of history, which has proved effective in treating kidney disease. With the help of online doctor, you can learn more information about our treatment
Our Treatment Effect
High creatinine level is dangerous to a kidney patient
Move the mouse to enlarge the picture
If you also want to reduce your high creatinine level, please look at this patient's report. When he was just hospitalized in our hospital on Dec 11, 2018,
His creatinine:1028umol/L,
urea: 39.7mmol/L
UA : 513umol/L
After a period of our treatment,
his creatinine:331umol/L, urea:16.1mmol/L
UA :325umol/L on Jan 5, 2019.
His condition was getting better and better. You can also get better.
For a CKD patient, you can choose Chinese medicine treatments to control your condition. your creatinine level can be reduced radically, symptoms can be alleviated and more importantly, your renal function will be improved. In this way, you can stay away from end stage kidney disease and avoid dialysis.