Does Kidney Disease Affect Hearing
2015-04-07 03:46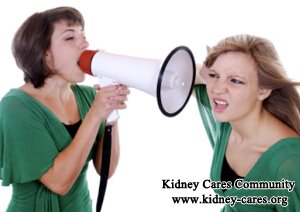 Hearing loss is not just the symptom of old people. Some diseases can also cause hearing loss. Recently some researches show that about 54.4% of CKD patients suffer from hearing loss. Does kidney disease affect hearing? Now let's have a quick look at this topic. With the help of online doctor, you can get the answer directly.
How does kidney disease affect hearing?
-Kidney and inner ear are closely associated.
Tissues in kidney and inner ear have structural and functional similarities. When your kidneys are not able to work well, the function of inner ear will be affected so that it is likely for you to have hearing loss.
-Accumulate waste products
When your kidneys fail to work properly, waste products can not be removed out of the body timely. With the progression of CKD, more and more waste products such as urea and creatinine build up in the blood. They can damage nerves, including those in the inner ear, leading to hearing problems.
-Side effects of western medicines
In order to control CKD well, various western medicines are used, for example, prednisone, cellcept, diuretics, ACEI, ARBs, diuretics, etc. Those medicines have side effects more or less in the long run. They may impair your hearing.
-Other causes of hearing loss for kidney patients
Some other factors associated with kidney disease can also cause hearing loss, such as high blood pressure, diabetes, arteriosclerosis, thyroid hypofunction, primary or secondary neuropathy, low blood sodium level, etc.
Does kidney disease affect hearing? Yes, kidney disease does not only affect hearing, but also other systems of your body. If you do not want to suffer from those symptoms and complications, you should take treatment as early as possible to preserve your kidney function. For corresponding information about our treatment to kidney disease, please leave a message below or send emails to kidneycares@hotmail.com.
Our Treatment Effect
High creatinine level is dangerous to a kidney patient
Move the mouse to enlarge the picture
If you also want to reduce your high creatinine level, please look at this patient's report. When he was just hospitalized in our hospital on Dec 11, 2018,
His creatinine:1028umol/L,
urea: 39.7mmol/L
UA : 513umol/L
After a period of our treatment,
his creatinine:331umol/L, urea:16.1mmol/L
UA :325umol/L on Jan 5, 2019.
His condition was getting better and better. You can also get better.
For a CKD patient, you can choose Chinese medicine treatments to control your condition. your creatinine level can be reduced radically, symptoms can be alleviated and more importantly, your renal function will be improved. In this way, you can stay away from end stage kidney disease and avoid dialysis.