How Is Disorientation Related to Kidney Disease
2015-03-26 11:46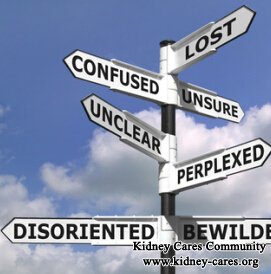 Disorientation is a confused state of mind that makes you difficult to identify yourself, your location, or the date and time, etc. Not a few kidney patients suffer from such a state. How is disorientation related to kidney disease? Go on reading, you will learn more corresponding information. If you still have any question, please feel free to contact online doctor or leave a message below.
What causes of disorientation for kidney patients
-High toxin concentration
With the decline of kidney function, your kidneys can not remove the waste products and excess fluid from the blood timely so that those waste products build up in the blood. When their concentration is very high, they cause damage to your whole body. In such case, you may have the feeling of disorientation.
-Anemia
Anemia is a common complication of kidney disease. Because as long as your kidneys are damaged, they can not make red blood cells to transport oxygen. When your brain is lack of oxygen and blood, it makes you difficult to concentration so that you have disorientation.
-Side effects of western medicine
Western medicine is the most popular treatment for kidney disease. They can help you control the symptoms, but they have many side effects. Disorientation may be a side effect of certain medications.
There are also other factors that can cause disorientation, such as vitamin B12 deficiency, low blood sugar level, dehydration, dialysis disequilibrium syndrome, etc.
Disorientation requires immediate medical attention to determine the diagnosis and appropriate treatment. Therefore, you should talk with your doctor when you have disorientation.
How is disorientation related to kidney disease? Do you get the answer? Kidney disease can cause various problems. In severe cases, it may threaten your life. Hope you can attach importance to it and improve your kidney function as early as possible.