Why Does Gouty Nephropathy Result In Uric Acid
2015-03-17 15:33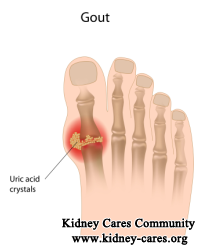 Why uric acid is high in gouty nephropathy? The cause of kidney damage in gouty nephropathy is elevated uric acid. Why does uric acid elevate in patients with gouty nephropathy?
1. Causes of high uric acid in gouty nephropathy
High uric acid is caused by disorder of purine. Purine is a substance which will change into uric acid after oxidation. Uric acid in body is continuously produced and excreted so its concentration is stable.
The most common cause of abnormal purine is the food with high purine like meat and seafood. Therefore, patients with gout should pay more attention to food except taking some medications.
Besides, kidney disease is also a reason of high uric acid. If too much uric acid is made, or your body cannot efficiently clear uric acid from the body, then this can lead to too much uric acid in your blood. The whole system can also get very overworked. In those cases, kidney damage occurs.
2. How to treat high uric acid in gouty nephropathy?
Avoid foods and medications that are purine-high
The easiest treatment for high uric acid is to avoid foods and medications that are purine-rich and cause the acid to be produced in excess. This may include avoiding coffee, alcohol, aspirin, liver and other purine-rich foods. Some medications such as chemotherapy drugs cause high levels of uric acid but cannot be avoided because the drugs provide life-saving treatment.
Patients with kidney disease usually need dialysis to discharge some wastes and toxins from the body.
Chinese medicine treatment
In Shi Jiazhuang Kidney Disease Hospital, we have special Chinese medicine treatments like medicated bath, Mai Kang Mixture, Micro-Chinese Medicine Osmotherapy, medical soup therapy and acupuncture, etc. With Chinese medicine treatment, it can relieve symptoms, complications and repair kidney damage. Gradually kidney function will also be improved. When kidney function is improved, excess uric acid can be discharged out of the body. It also reduces the risk of gouty nephropathy.
Causes and treatments of high uric acid have provided for you. If you have any other question, please send emails to kidneycares@hotmail.com or consult our online doctor directly.