Are Night Sweats A Symptom Of Kidney Disease
2015-03-04 10:52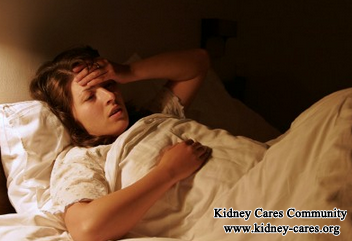 Night sweats or excessive perspiration at night is an uncomfortable part of life for many people. Doctors often hear their patients complain of night sweats. Kidney disease can lead to many symptoms. Are night sweats a symptom of kidney disease?
The following condition in kidney disease can cause night sweats:
1. infection
Night sweats may indicate hidden infection in the body. We know healthy kidneys can discharge wastes from the body, however, damaged kidneys cannot remove wastes. Thus more and more waste products deposit in the body and then patients' immune system may become abnormal. In this condition, bacteria will take the advantage of attacking the body, leading to infections. Thus, kidney failure patients may suffer from night sweats.
2. the side effects of medications
Kidney disease patients often take a lot of medications to control their symptoms like high blood pressure, high blood sugar, blood in urine and anemia. Night sweats can be the side effects of medications.
3. hormone disorders
Hormone disorders are common complications of renal failure and night sweat can be a sign of hormone problems.
4. low blood sugar
Low levels of blood sugar in blood can cause sweating. Diabetes patients who on insulin or diabetic medicines and who have temporary hypoglycemia, might also experience this condition at night.
The above are possible causes of night sweats in kidney disease. If excessive sweating is related to kidney disease, what should you do to control it? Consult our online doctor or leave a message to kidneycares@hotmail.com. And then you will find the answer.