What Is the Risk of High Creatinine Level
2015-02-21 03:42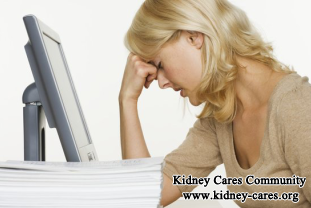 Once being diagnosed with CKD(Chronic Kidney Disease), we are always told to keep serum creatinine in a low level. Why is this? What is the risk of high creatinine level?
Serum creatinine level is an index of kidney function, and usually, the poorer the kidney function, the higher the serum creatinine level. Therefore, creatinine level is always measured to learn about how well the kidneys function. In medicine, elevation of serum creatinine level not only means kidney function is declining, but also indicates lots of toxins are building up in blood. high serum creatinine level is a very dangerous illness condition and patients with persistent high serum creatinine level usually run the following risks:
-Cardiovascular disease
High serum creatinine level means kidneys can not work properly. Under such a condition, lots of toxins will build up in blood, which increase patients' risk for cardiovascular disease like heart failure, arrhythmia, stroke, high blood pressure, pericarditis and myocardial injury, all of which are very life-threatening. According to clinical statistics, cardiovascular disease is the leading one cause of death among kidney failure patients.
-Renal anemia
Morbidity of renal anemia also increases with the increase of serum creatinine level. Kidney is a natural filter of our body and while helping us cleanse blood, it also helps to secrete EPO (erythropoietin) which is needed for the production of red blood cells. When kidneys are severely damage, there is lack of EPO, leading to low red blood cell count. Consequently, renal anemia is caused. Renal anemia is a very terrible illness which not only worsens kidney condition, but also causes a series of other health tissues. In severe cases, blood transfusion is also needed for life safety.
-Electrolyte disturbance
High creatinine level patients also run risk of electrolyte disturbance which is usually controlled with oral medicines. Mild electrolyte imbalance is not deadly, but if not managed well, it will give rise to various physical discomforts like bone pain, muscle cramp, skin itching, nausea, vomiting and diarrhea.
- Nerve damage
Nerve system can also be damaged when there is extremely high creatinine level in blood. In kidney disease, symptoms like memory loss, poor concentration, insomnia, coma, numb limbs and convulsions are all resulted from nerve damage easily.
Lastly, when serum creatinine level goes up to a certain level, dialysis or kidney transplant is usually needed to help patients sustain their life. Therefore, to lower risk for the above problem and stay far away from dialysis and kidney transplant, keeping serum creatinine level in a lower range is very necessary. (Consult our online doctors about ways to reduce high creatinine level)
Our Treatment Effect
High creatinine level is dangerous to a kidney patient
Move the mouse to enlarge the picture
If you also want to reduce your high creatinine level, please look at this patient's report. When he was just hospitalized in our hospital on Dec 11, 2018,
His creatinine:1028umol/L,
urea: 39.7mmol/L
UA : 513umol/L
After a period of our treatment,
his creatinine:331umol/L, urea:16.1mmol/L
UA :325umol/L on Jan 5, 2019.
His condition was getting better and better. You can also get better.
For a CKD patient, you can choose Chinese medicine treatments to control your condition. your creatinine level can be reduced radically, symptoms can be alleviated and more importantly, your renal function will be improved. In this way, you can stay away from end stage kidney disease and avoid dialysis.