What Causes Low GFR And What Does It Mean
2015-02-03 15:48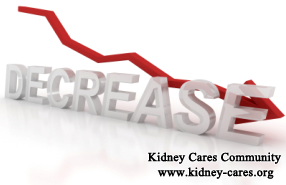 What does low Glomerular Filtration Rate (GFR) mean? In adult the GFR should be somewhere between 100 and 130, while in children it should be about 110. It is a way to measure the kidney function. So does low GFR mean kidney problems?
What does low GFR indicate?
Basically, GFR measures how much fluid flows through your kidneys. Lower numbers mean that your kidney function may be impaired. That is why you are getting a lot of information about kidney disease if you have low GFR. The BUN and creatinine do not actually start elevating until you have lost more than something like 50% of your kidney function, so GFR is more commonly used measurement for catching kidney disease early. According to GFR, kidney disease is divided into 5 stages as below:
GRR>90 with no signs of kidney damage like proteinuria=normal
GFR>90 with signs of kidney damage (stage 1)
GFR 60-90 stage 2-mild kidney damage
GFR 30-60 stage 3 with moderate kidney damage
GFR 30-15 stage 4 with severe kidney damage
GFR<15 stage 5 -kidney failure
What causes low GFR?
There are one million nephrons in kidney, which are responsible for kidney's filtration function. For patients with kidney disease, their kidney disease can damage the nephrons, which will reduce the filtered blood by their kidneys, and this will cause patients to have low GFR levels. However, it does not mean patients have kidney disease if their GFR is lower than normal, this is because many factors can affect GFR. But if you have kidney disease, you will surely have decreased GFR level.
If you have any unclear point, you can leave a message to kidneycares@hotmail.com and we will reply you as soon as possible.