How Does Acupuncture Treat Kidney Disease
2015-01-30 06:54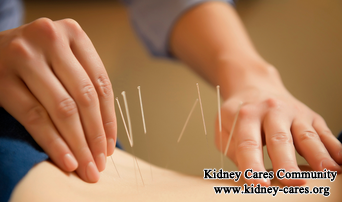 Acupuncture is a treasure in the Chinese medicine treatment. It has made outstanding contributions to the continuity of our Chinese nation. We feel quite helpless in the face of kidney disease, so we think of acupuncture again. After many years of experiments, we found that acupuncture has unique efficacy in treating kidney disease. Well, how does acupuncture treat kidney disease?
Twelve meridians of our body can not only store blood and qi but also regulate qi and blood. When twelve meridians are disordered, or they function improperly, we will suffer from insomnia, vomiting, dizziness, fatigue, pain, swelling, constipation, abdominal distention, fever, numbness, blood in urine and night sweat, etc. From this, we can see swelling, oliguria, anuria, blood in urin and fatigue as well as other kidney disease symptoms are all caused by abnormal twelve meridians. To solve kidney disease problem, we first need to treat the problem of twelve meridians.
Oral taking Chinese medicine is one good way to treat twelve meridians. However, nowadays, since environment pollution become very serious, the quality of Chinese herbs is also affected. As a result, some effective Chinese herbs can not be used as before.
Due to the various causes, the treatment for kidney disease requires acupuncture. Acupuncture can open up the meridians and improve blood circulation, make the blood and qi function according to the normal order. Acupuncture can treat twelve meridians fundamentally. When twelve meridians get normal, kidney disease is also treated.
Acupuncture has three functions in treating kidney disease:
Increase effective blood circulation of kidneys, carry away inflammatory factors, cleanse immune complexes and repair damaged kidney intrinsic cells
Regulate the expressions of cytokines, inhibit ultra immune inflammatory response and protect kidney inherent cells
Increase the body's natural immune system, reduce inflammation, stabilize your medical conditions and prevent the relapse of kidney disease.
Therefore, at present, it is wise to take acupuncture for kidney disease.
Our Treatment Effect
High creatinine level is dangerous to a kidney patient
Move the mouse to enlarge the picture
If you also want to reduce your high creatinine level, please look at this patient's report. When he was just hospitalized in our hospital on Dec 11, 2018,
His creatinine:1028umol/L,
urea: 39.7mmol/L
UA : 513umol/L
After a period of our treatment,
his creatinine:331umol/L, urea:16.1mmol/L
UA :325umol/L on Jan 5, 2019.
His condition was getting better and better. You can also get better.
For a CKD patient, you can choose Chinese medicine treatments to control your condition. your creatinine level can be reduced radically, symptoms can be alleviated and more importantly, your renal function will be improved. In this way, you can stay away from end stage kidney disease and avoid dialysis.