Is This Common For CKD Patients To Have Less Interest In Sex
2015-01-08 08:08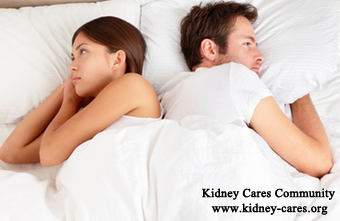 Sexuality has physical and emotional components, both of which can be affected by chronic kidney disease (CKD), so it is common for CKD patients to have sexual problems. Well, what causes sexual problems?
Sexual problem can be affected by the following factors:
1. tiredness
Fatigue is one of the most common symptoms people with kidney disease experience. In the early stages of CKD, low levels of wastes and fluid build up in the body. This can leave you feeling tried and sluggish. Feeling tired makes you have less interest in sexuality.
2. low sex drive
Hormones are chemicals produced by the body's endocrine system. They are important for a person's ability to feel sexual desire. The kidneys are part of the endocrine system. The adrenal glands produce certain hormones. If hormone levels become out of balance, people may experience a decrease in your sex drive.
3. erectile dysfunction
Erectile dysfunction can happen when blood vessels and nerves to the penis become damaged. Without proper blood flow, the penis cannot maintain an erection. Diabetes and high blood pressure affect blood flow and weaken blood vessels. As a result, patients can have sexual problems.
4. medications
Kidney disease patients will take various medications to control their symptoms. The medication you are taking might also affect your sex drive.
It is possible for CKD patients to experience sexual problems. There are many effective treatments available. You can leave a message to kidneycares@hotmail.com to find more information about kidney disease.