Potassium Level At 5.9: What Does It Mean
2015-01-04 02:57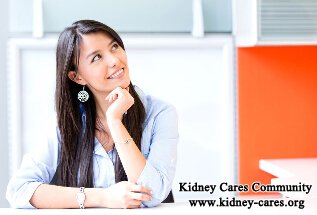 Healthy kidneys maintain a proper level of potassium. Healthy potassium level is between 3.5-5.0mEq/L. Potassium level at 5.9mEq/L is high than the normal range. And this indicates kidney problem.
High potassium and kidney disease
When you have kidney disease, the kidneys are not effective at removing excess potassium from the blood. Also some medications can result in excess potassium retention. In the early stage of kidney disease, potassium level is usually normal because the kidneys are still able to remove sufficient amounts of potassium. If potassium level is higher above normal in stage 1,2 or 3 kidney disease, it may be related to medications or other factors or improper diet intake. As kidney function declines in stage 4 and 5 chronic kidney disease, potassium levels will increase because it is no longer removed in sufficient amounts.
What will high potassium level cause?
Potassium is to keep your heart beating, maintain fluid, electrolytes and PH balance in your blood, promote muscle growth and sustain a healthy nervous system and brain function. Therefore, a high potassium can cause nausea, weakness, numbness or tingling, slow pulse, irregular heartbeat and heart failure.
High potassium level usually indicates kidney problem. In some case, low potassium in kidney disease also can occur. This is because malnutrition, excessive vomiting or diarrhea and taking certain medications, such as diuretics can cause a potassium deficiency. You should check your potassium levels regularly and then make the necessary lifestyle changes, such as substituting lower potassium foods for ones high in if you are on a low potassium diet. Additionally, improving kidney's own filtering ability is the most important.