What Are Complications Of Renal Parenchyma Disease
2014-12-26 07:11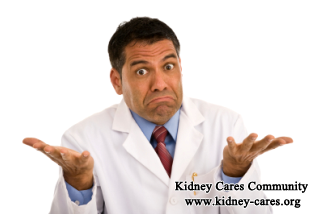 What will occur with renal parenchyma disease? Parenchymal refers to the location of the disease-the kidneys. The disease causes scarring and kidneys lose their function whenever scar tissue forms. This scarring often leads to kidney failure.
1. What are symptoms of renal parenchyma disease?
Renal parenchyma completes the major work of kidney. Thus, when this part is damaged, many disorders will appear and various symptoms will occur. For example, people with renal parenchyma disease often have high blood pressure, and hypertension often worsen patients' condition. Besides, symptoms of this disease include blood in urine, abnormal blood tests, swelling in the feet and lower legs, arms, or face, and symptoms of urinary tract infection. What is more, loss of appetite, nausea, vomiting, fatigue, sleepiness, itching, twitching, and a metallic taste in the mouth indicate chronic kidney disease.
2. What is the treatment for renal parenchyma disease?
Diet management
Treatment for parenchyma kidney disease should remove excess salt, water and harmful substances from the bloodstream. Patients can manage their kidney disease by restricting their intake of salt, potassium and protein.
Control relative symptoms
High blood pressure, diabetes should be treated by medications and dietary changes. Besides, patients can take erythropoietin, a hormone that helps bone marrow to produce healthy blood cells.
Stop kidney scarring and improve renal function
We stop kidney scarring and improve kidney function by a comprehensive remedy. First, we use western medicine to control relative symptoms. And then we use one herbal treatment, called Micro-Chinese Medicine Osmotherapy to help achieve our goal. The active substances in this therapy can increase blood flow within kidneys. More blood flows into kidneys can provide enough nutrition and oxygen for kidney cells. Gradually, kidney can repair themselves.
If you have any question, just feel free to consult our online doctor. We will give you free advice.